Psi Chi Honor Society
Get TWU Psyched!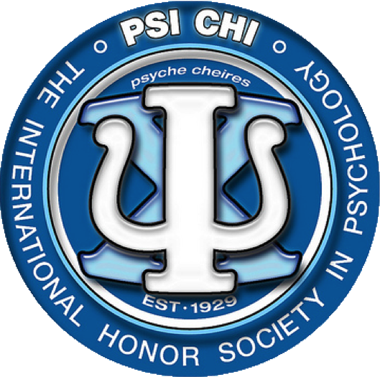 Recognizing and promoting excellence in the science and application of psychology
TWU Psi Chi members engage in service activities, educational events, and work to form camaraderie among psychology students. As a Psi Chi member, you will:
meet faculty, find out about opportunities to get involved on campus and be recognized as part of a national honors organization
gain exclusive access to research materials, scholarships, and the ability to publish in the Psi Chi Journal of Academic Research
demonstrate your achievements during graduation with stoles and honor cords
Follow us on Facebook, Instagram, and Twitter, or learn more about the Psi Chi National Organization.
Ready to Join?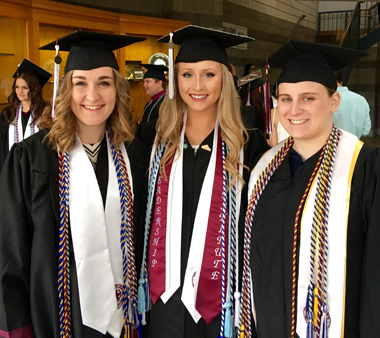 All psychology majors and minors who have a second semester sophomore status or above, have completed nine hours in psychology, have a 3.00 in psychology and an overall GPA of 3.20 are eligible to apply. Please note that current enrollment courses do not count toward the nine hour psychology course requirement. To apply:
Complete an online membership application.
Submit a hard copy of your current transcript and lifetime dues of $80 to Lisa Rosen, Ph.D., in CFO 706. Payment of dues are accepted in the form of check or money order only, payable to Psi Chi.
Once you have completed the steps above, Lisa Rosen, Ph.D., will notify you about the status of your application via email. While applications are accepted year-round, students with applications submitted after March 1 will not be included in the formal Spring Induction Ceremony.
Psych Coalition
Not ready to join Psi Chi but still want to be involved? Consider joining psych coalition. This partner group allows you to get involved on campus, meet the faculty, get connected, and attend amazing psi chi events. To apply for membership, contact psichipioneers@gmail.com. Membership requires an annual due of $5 and an ability to attend monthly meetings which are generally held at the Denton campus during lunch.
Meet the Psi Chi Officers
President: Gordon Alexander
Contact: galexander3@twu.edu
Gordon is a senior at Texas Woman's University and a Psychology major. A Phi Beta Kappa student from Collin College, he transferred to TWU in the fall of 2015 after receiving his Associate of Arts degree. In the past year he has done research with HIV positive persons concerning psychosocial causes of non-adherence to treatment plans. He is currently conducting research in morality, which is an interest of his. Future plans of his include more morality research and graduate level studies in Counseling Psychology. His occupation is a teacher of state licensing class. Gordon is also an avid reader, gardener and hiker. As a member of two Toastmasters International speaking clubs, he would like to speak and deliver research discoveries to those who might benefit the most.
Vice President: Elizabeth Thompson
Contact: ethompson10@twu.edu
Hello all! I am Elizabeth, vice president of Psi Chi. I am a transfer student who entered TWU in the fall of 2016 after completing an Associates of Arts degree at Collin College. I am a senior Psychology major on the graduate school degree track and will be applying to counseling psychology graduate programs this year. Along with being the vice president of Psi Chi I am also a member of the TWU Leadership Institute, ODK, and The National Society of Leadership and Success. Please feel free to email me with any questions about Psi Chi, TWU, getting more connected on campus, or anything else!
Hobbies: Playing with my three rescue dogs, reading, spending time with family, live music concerts.
Research interests: Trauma, domestic violence, sexual assault, sexual health and women's issues.
Treasurer: Hannah Hagler
Contact: hhagler@twu.edu
Hey everyone! I'm Hannah the treasurer. I'm a senior psychology major with minors in English, global studies and general science. I will be applying to graduate school this year for school psychology and plan on pursuing a doctorate. I look forward to meeting you!
Hobbies: I sleep sometimes.
Research Interests: Video self-modeling (VSM), autism spectrum disorder, disgust and food neophobia.
Secretary: Alexis Sikorski
Contact: asikorski@twu.edu
I'm this year's Psi Chi Secretary. I'm a third-year (senior by credit) majoring in both English and Psychology. Other organizations I'm involved in include Phi Kappa Phi, the Athenian Honors Society where I'm a mentor and committee member, Sigma Tau Delta where I 'm president, and G-Force where I 'm a mentor and team leader. I am in flux. I'm a published poet and short story author, I pat airplanes before boarding for good luck, and I really like dogs.
Events: Ariel Villarreal
Contact: avillareal11@twu.edu
Hi all, I'm Ariel! I am a senior psychology major and the Officer of Events for Psi Chi. I am planning on applying to graduate schools for next year. I will be applying to both counseling and clinical psychology programs. Feel free to email me if you have any questions about graduate school, TWU, Psi Chi or anything else!
Hobbies: basketball, martial arts, live music concerts, youth group, and cuddling with puppies.
Research interests: trauma, rehabilitation, abnormal psychology, health psychology and social neuroscience.
Page last updated 1:47 PM, March 20, 2019