Jamison Lecture to feature Melba Patillo Beals of Little Rock Nine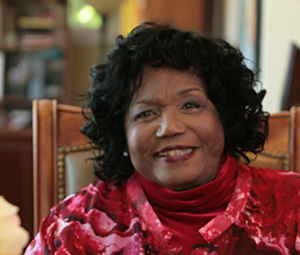 Feb. 24, 2021 — DENTON — Melba Patillo Beals, Ed.D., journalist, author and member of the Little Rock Nine — the first group of African American students to integrate Little Rock Central High School in 1957 — will speak at Texas Woman's University's sixth annual Jamison Lecture, part of the Nancy P. and Thaddeus E. Paup Lecture Series. The lecture, titled "Warriors Don't Cry," will take place online via live stream beginning at 7 p.m., March 18.
The lecture is free and open to the public. A question-and-answer session will follow the discussion. Registration is required, and participants will receive an email with a link to the virtual event prior to the lecture. For more information and to register, please visit twu.edu/jamison.
In her award-winning book, "Warriors Don't Cry: A Searing Memoir of the Battle to Desegregate Little Rock's Central High School," Beals gives a detailed, first-hand account of her experience entering the previously all-white school in the face of violent mobs and death threats at the age of 15. In 1999, Congress awarded Beals and the eight other Little Rock Nine members the Congressional Gold Medal — the nation's highest honor — for their contribution to the Civil Rights movement.
"Warriors Don't Cry" has played a significant role in TWU's history curriculum for several years.
"Our undergraduate students participate in an in-depth reading of Beals' memoir, so we are eager to have her join us to discuss such a landmark moment in U.S. history," said Jonathan Olsen, Ph.D., professor and chair of the TWU Department of History and Political Science. "It couldn't come at a more opportune time, during Women's History Month. Plus, our students are experiencing their own historic civil rights movement with Black Lives Matter and the recent swearing in of Kamala Harris as our first female, African American and Asian American U.S. Vice President."
In addition to "Warriors Don't Cry," Beals authored "I Will Not Fear: My Story of a Lifetime of Building Faith under Fire" and the prequel to "Warriors," "March Forward, Girl: From Young Warrior to Little Rock Nine."
Beals taught journalism at Dominican University of California, where she retired as Chair Emeritus of the Department of Communications and Media Studies in January 2014. According to Beals, "education is one major key to personal equality that cannot be taken away."
About the Jamison Lecture
In 2014, the Jamison estate donated $1.7 million to TWU to fund the Jamison lecture and other university needs. The Jamisons were longtime supporters of TWU and members of TWU's Old Main Society. Alonzo Jamison served seven terms in the Texas State Legislature before joining TWU faculty in 1968. During his tenure, he became chair of the TWU Department of History and Government before retiring in 1984. He passed away in 2011. His wife, Elisabeth Jamison, received a bachelor's degree in music from the Texas State College for Women, now TWU, in 1943. She died in 2009.
About the Nancy P. and Thaddeus E. Paup Lecture Series
The Nancy P. and Thaddeus E. Paup Lecture Series was launched in September 2019 to highlight speakers who are bold, innovative and renowned experts in their fields. The Paups, who reside in Fort Worth, are longtime supporters of TWU. Nancy manages and directs business, real estate and ranching interests in Texas. She previously served on the TWU Board of Regents and was elected vice-chair during her tenure. Nancy is an elected member of The Philosophical Society of Texas. She currently serves on the Board of Directors of Humanities Texas, the state affiliate for the National Endowment for the Humanities, the Executive Advisory Committee of The Handbook of Texas Women, and the Board of Directors for the Center for the Advancement and Study of Early Texas Art. Nancy has raised funds throughout Texas for the arts, higher education and historical preservation. Her academic degrees include master's and bachelor's degrees from TWU. Ted is the president of Paup Mineral Management, L.L.C.
Page last updated 9:33 AM, February 24, 2021