Sarah Gamblin
Professor of Dance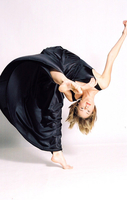 Sarah Gamblin, Professor of Dance, was a member of Bebe Miller Company from 1993-2000 and Bill Young and Dancers from 1996-99 with whom she toured Portugal, Poland, Estonia, Peru, Venezuela, Russia (St. Petersburg), South Africa, and numerous cities in the U.S. In 2000 Sarah earned her MFA in Dance from the University of Washington in Seattle where she performed with the Chamber Dance Company, Rob Kitsos, Lingo Dance Theater and Amii LeGendre. After a fifteen- year hiatus, Gamblin is once again in rehearsals with Bebe Miller Company for "The Making Room" project in preparation for the 2017-18 season.
Gamblin joined the dance faculty at Texas Woman's University in 2002 where she teaches Modern technique, Choreography, Improvisation, and Experiential Anatomy. In 2006, she founded Dance Lab, a student-performing group devoted to improvisation in the dance making process. Gamblin also founded, and has been co-hosting, the weekly TWU Contact Improvisation Jam since 2004.
Her choreography has been produced at Conduit Dance Center's Dance Plus Series in Portland, Oregon, the New Genre Festival in Tulsa, Oklahoma, Seattle Festival of Dance and Improvisation, Bates Dance Festival, Northwest New Works Festival at On the Boards, in New York City at Hundred Grand and Dia Center for the Arts. In addition, her work has been produced in Texas at the Fusebox Festival in Austin, the Fort Worth Dance Festival, the Out of the Loop Festival in Addison, and Texas Woman's University. Finally, The University of Montana, Perpetual Motion, Flatlands Dance Theater, Mam-Luft Dance, Texas Christian University, the University of South Florida and ClancyWorks in Washington DC have each commissioned her choreographic work.
Page last updated 10:39 AM, May 23, 2018