Mary Williford-Shade
Professor of Dance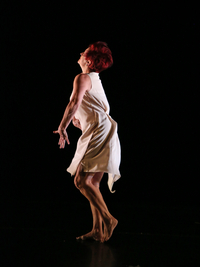 Mary Williford-Shade (Professor, Department of Dance) has been hailed by Deborah Jowitt of the New York Times as "extraordinary" and by Alan Kriegsman of the Washington Post as "….incisive, electric, with deep undercurrents of sensuality, ….wild, willful, and mysterious," Mary Williford-Shade was a principal dancer with Mark Taylor, Mark Dendy, Pittsburgh Dance Alloy, and Maryland Dance Theater. Some of her company repertory includes works by Marta Renzi, David Rousseve, Susan Marshall, Bebe Miller, Doug Elkins, Sean Curran and Molissa Fenley. Since then, she and her Baltimore-based partner, Sandra Lacy, created a solo-duet repertory company called "Lacy & Shade." They created their own work as well as commissioned works by such choreographers as Irene Hultman, Lisa Race, Gabriel Masson, Jeanine Durning, Jose Luis Bustamante, Sarah Sweet Rabidoux, Tonya Lockyer, Melissa Briggs and Michael Foley.
For three years Professor Shade performed with six professional women soloists in a dance project created and curated by Andee Scott called SOLA. The project has been produced in such spaces as Dance Complex in Boston, MA, Sarasolo Festival in Sarasota, FL, The Out of the Loop Festival in Addison, TX and The Dance Café in Uppsala, Sweden as well as Middlebury College, University of Michigan, University of Southern Florida, and New York University. Currently, I am working with three of the SOLA women on a project called "WERK" directed and choreographed by a well-known New York choreographer, Jeanine Durning. She is "an Alpert Award winning choreographer and performer from New York whose work has been described by The New Yorker as having both "the potential for philosophical revelation and theatrical disaster."
Professor Shade came to TWU in 1995, became the chair in 2011 and continues to teach performance, bodywork, contemporary dance practices and artistic process. She has a MFA from Ohio State University and is a Certified Laban Movement Analyst and is a nationally/ internationally recognized master teacher with teaching credits that include The Klutz Pedagogic Tanz Schule in Hamburg, Germany, Mukagowa University in Osaka, Japan, University of Quebec, Connecticut College, George Washington University, the American Dance Festival and the Bates Dance Festival.
While teaching at TWU, Professor Shade has received several prestigious university awards that include the Texas Woman's University's Mary Mason Lyon Award for Excellence in Scholarship, Teaching and Service, a Summer Research Stipend, a Research Enhancement Award and a Faculty Development Leave.
Page last updated 3:58 PM, February 14, 2022