Jordan Fuchs
Professor of Dance, Dance Division Head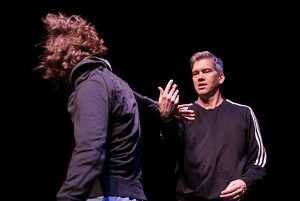 Jordan Fuchs (Professor of Dance, Dance Division Head) is a choreographer, performer and teacher whose choreography is grounded in improvisational practice, specifically the bias towards disorientation, sensation and process of contact improvisation, a movement form he has been practicing for more than 30 years. He utilizes the aesthetic values of improvisation to find the instability of each performance moment, the possibility of transformation through sensation and the inherent state of moving always in relationship to another and to the environment. Committed to the expressive capacity of the human body in motion, he delights in the dancemaking process, the obsessive, intuitive, tinkering-in-the-garage process of working with collaborators in the dance studio, crafting experiences, complex and multifaceted. His choreography for stage, screen and site has received grant support from Danspace Project's Commissioning Initiative and the New York State Music Fund among others and been presented nationally and internationally at numerous venues, including Dancespace Project; Dance Theater Workshop; Festival Agite y Sirva, Mexico; Fusebox Festival; Light Moves Festival of Screendance, Ireland; Movement Research at Judson Church; Prague Quadrennial; Seattle Festival of Dance Improvisation and the Seoul Dance Film Festival.
The founder of the Texas Dance Improvisation Festival, Fuchs is a former Fulbright Specialist, who has been on faculty at Hunter College and Movement Research and taught at numerous venues nationally and internationally, including at NTUA in Taipei, Tsekh Summer School in Moscow, Universidad de las Américas Puebla in Mexico, WCCIjam and Contact Fest Freiburg. A former Dance Specialist in the Jerome Robbins Moving Image Archive of the Dance Division of the New York Public Library, he has served as a curator for the EnCore Dance on Film Festival and kNOxBOX dance films festival, and as a performer for artists including K.J. Holmes, Kirstie Simson, Rebecca Lazier and Scott Wells among others. Based in San Francisco in the early 90s and then in NYC, Fuchs joined the dance faculty at TWU in 2007 and teaches graduate and undergraduate courses in choreography for stage, screen and site, grant writing and contact improvisation. In 2012 Fuchs was awarded the prestigious TWU Mary Mason Lyon Award for Excellence in Scholarship, Teaching and Service.
He holds a BA in Religion from Oberlin College and an MFA in Choreography from Ohio State University, where he was awarded a University Fellowship.
Page last updated 3:31 PM, January 25, 2023