Gladys Keeton
Professor Emerita of Dance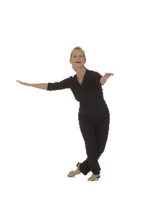 Gladys M. Keeton, Associate Professor of Dance, joined the Texas Woman's University faculty in 1969 after teaching at Memphis State University and the University of Tennessee-Martin. Her undergraduate and graduate degrees were earned at Northwestern State University in Louisiana. She was Director of the TWU Modern Dance Group from 1969-1973 and the TWU Repertory Dance Theatre which toured Brazil in 1977. She is the founder (1974), artistic director, and performer with the TWU International Folk Dance Company, which has performed at regional, state, and national conventions.
Professor Keeton teaches modern, ballroom, tap, cultural dance, children's dance, and adapted dance with emphasis on pedagogy. She also teaches dance appreciation and choreographs for annual concerts and musicals, one of which received honorable mention from the Kennedy Center ACTF. Recognition includes the TWU Distinction in Service and Outstanding Academic Advisor Awards, Outstanding Young Women of America Award, the TAHPERD Outstanding University Dance Educator, Honor, and PEPI Awards, Southern District AAHPERD Outstanding University Dance Educator Award, the Texas Drill Dance Team Educator's Association Hall of Fame Award, and the Association for Retarded Citizens Outstanding Service Award.
Contributions to dance education are made through leadership positions in state, regional, and national organizations as well as being selected as a charter member of the Texas Center for Educator Development in Fine Arts Cadre, Texas Education Agency Fine Arts Advisory Panel, State Review Panel for Dance Textbook Adoption, the State Board for Educator Certification Dance Standards Review committee, and Artist-In-Education for the Texas Commission for the Arts. Ms. Keeton is very active in the community as Director of the TWU Community Dance Center, directing special groups such as Pure Emotion (for special populations) and Young at Heart Tap Dance Company for senior adults, as well as conducting workshops for teachers and students.
Page last updated 4:26 PM, February 2, 2018