Dr. Linda Caldwell
Professor Emerita of Dance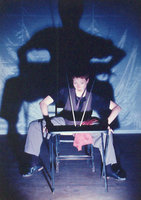 To honor the life of a much loved faculty member of the Department of Dance, the Estate of Dr. Linda Caldwell has made a gift to the Texas Woman's University Foundation to establish the Dr. Linda Caldwell Scholarship Endowment.
If you would like to make a gift in support of the Dr. Linda Caldwell Scholarship Endowment in Dance, please visit our dedicated donation page.
Linda Caldwell, Ph.D., a Certified Movement Analyst in Laban Movement Studies, was professor and coordinator of the low-residential doctoral program in dance at Texas Woman's University. She served as the co-chair for Research and Documentation for the World Dance Alliance-Americas and co-edits, along with Dr. Urmimala Sarkar of WDA-Asia Pacific, the WDA publication of the Journal of Emerging Dance Scholarship. Her interests included new research methodologies specific to the needs of dance practice/theory and methods for bringing the dancer's voice and body into scholarly writing. Her dissertation and past publications concern a 15-year exchange with Poland's contemporary dance company, The Silesian Dance Theatre. Dr. Caldwell's choreography has been performed in dance festivals in Lyons, France and Krakow, Poland, as well as chosen twice for the National College Dance Festivals in Washington, D.C. and Tempe, Arizona.
Page last updated 9:07 AM, May 31, 2022