Dallas Enrollment (One Stop)
The Enrollment Services (One Stop) office within the beautiful TWU T. Boone Pickens Institute for Health Sciences – Dallas Center is located on the first floor, Room 1500. Our mission is to provide exemplary and seamless service for prospective and current TWU students.
Hours:
Monday – Friday: 8 am – 5 pm
Admissions
The Admissions office serves as a starting point for individuals interested in furthering their education. TWU offers many degree options for first-year, transfer and graduate students. For more information, meet with an admissions counselor at Texas Woman's.
Robert R. Benavides
Assistant Director of Admissions, Graduate Recruitment
rbenavides1@twu.edu
214-689-6550
Hometown: San Benito, TX
Education: Bachelor's Degree in Communications
Favorite Thing about TWU: The history of the campus and the architecture of the buildings on campus.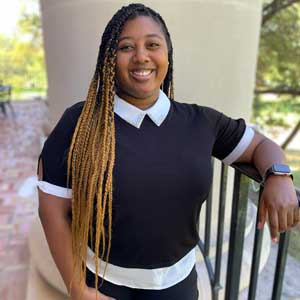 Taylor Tate
Assistant Director, Enrollment Services (Admissions, Financial Aid & Registrar)
ttate3@twu.edu
214-689-6525
Hometown: Dallas, TX
Education: BS in Psychology
Favorite thing about TWU: As a recent alum of TWU, I can appreciate Texas Woman's University for helping me become the professional I am today. All of the resources that they have available to guide their students on the pathway to success is greatly appreciated. The TWU family is one of the most supportive and loving families anyone could ever become a part of. Their empowerment, focus on inclusion and unity, and campus diversity will leave any person speechless. It's great to be part of a community that supports and favors all!
Financial Aid and Registrar
The One Stop also provides seamless services for questions and answers for prospective and current students regarding Financial Aid, and Registrar information. Primary service for Financial Aid is to provide assistance for financial aid and scholarship deadlines, eligibility requirements, special circumstances, grants, loans, and work study eligibility. Primary services for the Office of the Registrar include residency, questions regarding graduation requirements, auditing courses, add/drop/withdraw processes. For more information contact:
Page last updated 2:45 PM, June 6, 2023