TWU provides unique camp experience for children with cerebral palsy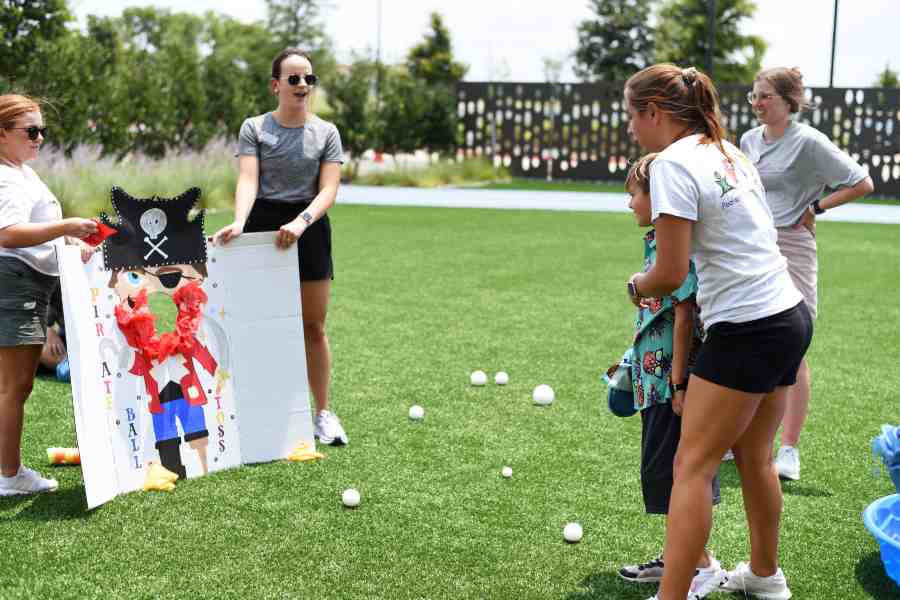 August 23, 2021 – DENTON – Texas Woman's University School of Occupational Therapy faculty members are always searching for ways to combine research and therapy that not only aids patients but also contributes to new knowledge in their profession. This summer, they were able to do both by providing children with cerebral palsy a camp to improve the use of their upper extremities and have fun in the process.
Pirate Camp is an established intervention that uses pirate-themed activities such as going on treasure hunts, throwing cannon balls, walking the plank and earning gold coins to redeem for treasure in order to improve upper-limb function in school-aged children with unilateral cerebral palsy, a disorder that affects their ability to move and maintain posture. This condition frequently presents children and their families with a lifetime of significant challenges. Successful interventions could therefore have life-long positive outcomes for the children's independence and alleviate significant financial burden for their parents. However, a key challenge is knowing which interventions will be most effective based on the children's presentations.
TWU Assistant Professors Heather Roberts, PhD, and Angela Shierk, PhD, addressed this significant problem by creating their own two-week Pirate Camp with TWU alumna Kirsten Tulchin-Francis, PhD '12, and Sophia Ulman, PhD, at Scottish Rite for Children Orthopedics and Sports Medicine in Frisco, Texas, held July 12-23. They implemented a more rigorous study design to analyze the impact of augmented rehabilitation utilizing technology on upper-limb function. This is the next step in understanding which interventions optimize upper-limb outcomes for children with unilateral cerebral palsy.
Fourteen children, ranging in ages from 5-13 years old, participated in the Constraint Induced Movement Therapy (CIMT) program camp, along with 45 TWU occupational therapy students from the Denton campus assisting. Eight participants were randomly selected to participate in the traditional camp (completing fun and motivating activities using their involved upper extremities), and six were randomly selected to participate in the camp along with virtual reality equipment. All of the participants made significant gains in independence with meaningful daily activities. Data analysis is underway to understand improvements in upper-limb movement and use of two hands together during daily tasks.
"The camp was important to the children because not only did it provide them with therapy to improve the use of their involved upper extremities, but it also allowed them to be around other children that face the same struggles and challenges," Roberts said. "They learned from each other and have a new-found sense of self-confidence."
The TWU students were able to utilize the knowledge they gained in the classroom and apply it during the camp as well.
"The students were able to immerse themselves in the experience and have hands-on opportunities working with children with cerebral palsy," Roberts added. "They also were able to practice and refine their communication skills in interacting with the parents, other hospital staff and volunteers, and they were able to work together as a team for a common goal of the children having fun!"
For the students, the experience brought them back to why they decided to pursue occupational therapy.
"I valued being a part of the therapy that helped the kids improve their skills," said student Lexi Raemsch of Bastrop. "I learned how to implement therapy and to properly shape and grade it to the particular client, something that is vital in health care, as well as how research works and the impact that it can have on the field of occupational therapy. I'm so thankful for the experience, and it's really only solidified my choice to be an occupational therapist."
"It was so exciting to watch these kids meet goals and exceed even their own expectations, and they taught me so much about perseverance, motivation and dedication," said student Cora Roman of Paradise. "These kids wanted to be pushed and treated like any other person, and the camp gave them that opportunity."
Due to the success of the Pirate Camp, Roberts and Shierk are already recruiting participants for next summer's camp (July 11-22, 2022), as well a CIMT program for younger children with unilateral cerebral palsy called "Therapy Together," which will be held once a week for eight weeks on the TWU Dallas campus this fall.
For more information, contact Angela Shierk at ashierk@twu.edu or (806) 470-0006 or Heather Roberts at hroberts3@twu.edu.
Media Contact
Ray Willhoft
Director of Communications, Jane Nelson Institute for Women's Leadership
940-898-4584
rwillhoft@twu.edu
Page last updated 1:55 PM, August 23, 2021