Nutrition graduate serves students with passion and engagement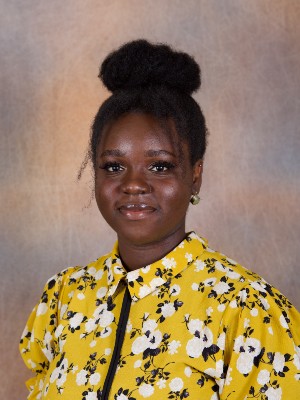 April 11, 2022 – DENTON – Keeping an open mind and treating everything as a learning experience has been the key to success for Texas Woman's May 2022 nutrition graduate Theodora "Theo" Sam-Brew. That was especially true for her while serving as the Student Government Association (SGA) president during COVID. But her passion for working for her fellow students led her to overcome challenges and accomplish great things.
Originally from Mankesim, Ghana, but growing up in Accra, Ghana, Sam-Brew came to the United States in 2015 because her parents wanted her to have access to better opportunities in terms of education and her career. Though she found living in the states to be slightly different than what she had been used to in Ghana.
"The thing that surprised me the most moving to the U.S. was the colloquialism and the language in general," she said. "I grew up speaking English that was heavily influenced by Britain and Ghana, so there were differences in how we referred to certain items or even how we spoke and communicated with each other."
Sam-Brew's interest in nutrition stemmed from her father's work as a food scientist, and she spent much of her childhood in the labs and factories with him.
"I really enjoy the fact that I am able to understand what I'm eating, and I have my own agency over my nutrition," she said. "I'm also privy to a lot of resources and information about the food market and food industry thanks to my father, which is a nice bonus."
She was attracted to TWU because of its welcoming campus feel and the opportunities provided by the BS in Food and Nutrition in Business and Industry program.
"TWU was actually the only school I toured, and I instantly loved it," she said. "I have really enjoyed developing products and learning the ins and outs of food production through the nutrition program as well. I especially loved the marketing aspect of it and even changed my minor from chemistry to marketing."
Sam-Brew also became involved with several departments and organizations at TWU, including serving as a resident assistant (RA), working as a student assistant for Housing and being a member of Zeta Phi Beta Sorority Inc., the American Marketing Association and the Climbing Club.
She served in the SGA as the senator for the College of Health Sciences before being elected president in 2021, something that was unexpected but turned out to be a challenging yet rewarding experience.
"I initially was not going to run for president; however, the previous president encouraged me to do it," she said. "Being elected by the student body rather than being appointed as had been the case in previous years, I truly felt humbled and proud that people thought so highly of me."
Unfortunately, serving as president during COVID was not an easy task.
"Engaging with the student body and making sure we were serving them the way they need to be served was quite difficult," she said. "My vice president and I decided that we had to be more intentional with our events. We went to almost every tabling event at the beginning of each semester and conducted surveys, shared our social media pages, created business cards, hosted themed meet and greets and even worked with Marketing and Communication to help promote our pages and website."
Sam-Brew's strategy worked, and the SGA was able to host events that made it more accessible to the student body. She also implemented several changes internally that allowed the SGA as a whole to run much smoother and empowered the senators and executive officers to meet any challenges that arose.
She credits much of her success as president to making connections and building relationships, and she never forgets that it's the students she serves.
"I always make sure to look for other people in similar positions as me to connect with, and it's a bonus if we share similar identities as well," she said. "I also always ask questions, and I always make sure to get feedback before proceeding with anything because I occupy this position for the students, not just for myself."
After graduation, Sam-Brew plans to visit Ghana and work as an intern before returning to TWU in January to pursue her MBA.
The lessons she has learned and the experiences she has gained at TWU no doubt will make her a success in all her future ventures.
Media Contact
Ray Willhoft
Director of Communications, Jane Nelson Institute for Women's Leadership
940-898-4584
rwillhoft@twu.edu
Page last updated 9:33 AM, April 11, 2022