Nutrition and Food Sciences programs gain reaccreditation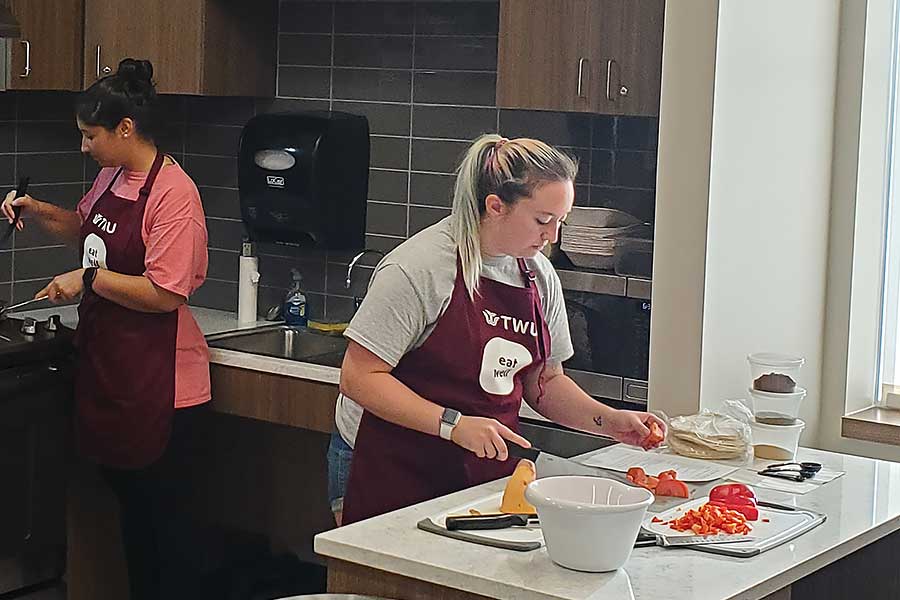 A national accrediting body has given high marks and granted full reaccreditation to two key Texas Woman's Nutrition and Food Sciences programs.
The Accreditation Council on Nutrition Education in Dietetics (ACEND) reaccredited the Didactic Program in Dietetics (DPD), which serves undergraduate students in nutrition (dietetics), and the Dietetic Internship Program - Denton (DI), which serves graduate students in the nutrition program and the exercise and sports nutrition program. The accredited status, which runs through Dec. 31, 2031, allows students to continue their career path to become registered dietitians nutritionists (RDN).
"This reaccreditation is just a continuation of the strong reputation that the nutrition and food sciences department has in preparing future registered dietitians, DPD students at the undergraduate level and dietetic interns at the graduate level," said department chair Shane Broughton, PhD. "I am appreciative of the contributions of Dolores Kearney and Martha Rew for their preparation of the self-study for their respective programs."
The DPD and the graduate-level DI programs received exemplary reviews based on the written self-study report and the program site visit in October 2022. Based on the reviews, the reaccreditation status was extended to eight years, rather than the standard seven.
The Texas Woman's nutrition dietetics program prepares students for careers as registered dietitian nutritionists (RDN). For the last five years, 98 percent of students who have applied to dietetic internships have been accepted.
"This is the culmination of a nearly two-year commitment of documentation of our undergraduate dietetics program," said Kearney, the didactic program in dietetics (DPD) director. "As I reflect back on the process, I must recognize the contribution of our outstanding TWU students, faculty and staff. In every meeting during our site visit, the review team commented on the support for our program."
Participating in an accredited internship program is mandatory for any nutrition student who seeks a career as a RDN. Texas Woman's competitive year-long internship, which focuses on medical nutrition therapy, is part of two master's in nutrition programs offered at TWU: the MS in Nutrition and the MS in Exercise and Sports Nutrition.
"Our graduate-level dietetic interns are well trained by TWU nutrition professors, making them highly qualified to train during their internship rotations," said Rew, the dietetic internship director - Denton. "The MS/DI program is proud of the 100 percent pass rate on the registered dietitian national board exam for the last seven years. The education at TWU encourages a spirit of engagement and most program graduates become future leaders in their profession or communities."
The dietetic internship master's degree program in Houston was granted reaccreditation in 2020 and holds its accreditation through 2028.
Page last updated 8:33 AM, May 3, 2023