Tina Gumienny, Ph.D.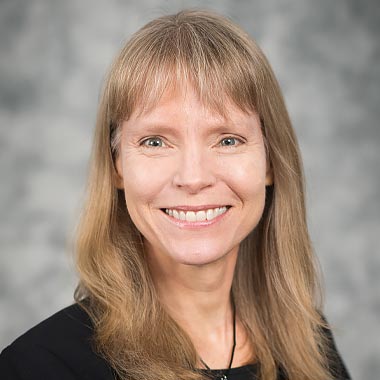 Associate Professor
Office: GRB 305
Phone: 940-898-2295
Fax: 940-898-2382
Email: TGumienny@twu.edu
Research Areas: Cell Communication


Education
| | | | |
| --- | --- | --- | --- |
| Degree | Date | Institution | Field |
| Postdoc | 2001-2007 | Rutgers University | Genetics |
| Ph.D. | 1993-2000 | SUNY-Stony Brook | Genetics |
| B.S. | 1989-1993 | Texas A&M University | Genetics |
Major Academic/Research Interests
I am interested in how cells communicate with each other at the molecular and cellular levels during development. My group focuses on Transforming Growth Factor-ß superfamily members (TGF-ßs), critical messengers for intercellular communication in metazoans. My long-term research goal is to understand how proper cell-to-cell signaling by TGF-ß is achieved during development and can be disrupted in disease states. Specifically, we study the molecular players and processes involved in regulating these signals in the nematode model system C. elegans using genetic, molecular, cell imaging, and biochemical tools.
Select Publications
Galbadage, T., Shepherd, T.F., Cirillo, S.L., Gumienny, T.L., and Cirillo, J.D. (2016) The Caenorhabditis elegans p38 MAPK gene plays a key role in protection from mycobacteria. MicrobiologyOpen, doi: 10.1002/mbo3.341.
Schultz, R.D., Bennett, E.E. (former undergraduate student), Ellis, E.A., and Gumienny, T.L. (2014). Regulation of extracellular matrix organization by BMP signaling in Caenorhabditis elegans. PLoS ONE 9(7): e101929. doi:10.1371/journal.pone.0101929.
Taneja-Bageshwar S. and Gumienny, T.L. (2012) Two functional domains in C. elegans glypican LON-2 can independently inhibit BMP-like signaling. Developmental Biology 371: 66-76.
Schultz R.D., Gumienny, T.L. (2012) Visualization of Caenorhabditis elegans cuticular structures using the lipophilic vital dye DiI. J. Vis. Exp. (59), e3362, DOI : 10.3791/3362.
Beifuss K.K., Gumienny, T.L. (2012) RNAi screening to identify postembryonic phenotypes in C. elegans. J. Vis. Exp. (60), e3442, DOI:10.3791/3442.
Page last updated 3:40 PM, September 11, 2023