DiAnna Hynds, Ph.D.
Professor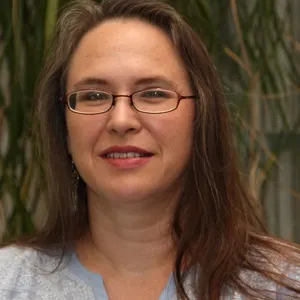 Office Location: GRB 104
Office Phone: 940-898-2359
Lab Phone: 940-898-2741
Fax: 940-898-2382
Email: dhynds@twu.edu
Teaching Areas: Neuroanatomy and Neurophysiology, Biology Seminar, Signal Transduction
Research Areas: Mechanisms of Axon Growth and Guidance
Education
| | | | |
| --- | --- | --- | --- |
| Degree | Date | Institution | Field |
| Postdoc | 1997-2000 | Univ. of Kentucky Med. Ctr. | Neurobiology |
| Ph.D. | 1997 | Ohio State University | Pathobiology |
| B.S. | 1991 | Hillsdale College | Biology and Math |
Major Academic/Research Interests
Our research is focused on elucidating the signal transduction mechanisms that mediate axon growth and guidance in neurons. This work is important for understanding both normal neuron development as well as for developing therapeutic strategies to improve function after traumatic or neurodegenerative disease. Axon growth and guidance are mediated by rearrangements of the cytoskeleton in a specialized structure located at the tip of an extending axon called the growth cone. We are currently investigating the role that small guanine nucleotide triphosphatases (GTPases) of the Rho subfamily play in axon growth and guidance by dissecting their mechanisms of activation, effect on growth cone extension and navigation, and regulation of cytoskeletal dynamics in growth cones.
Project List
Rho GTPase Regulation of Nucleation Complexes of Actin Binding Proteins
Role of Prenylation in Rho GTPase Activation, Signaling and Subsequent Neurite Outgrowth
Adhesion Complexes in Axon Growth and Guidance
Nanoparticle Systems to Image and Manipulate Axon Growth and Guidance
Select Publications
*GhoshMitra S., Diercks D., Mills N.C.,

Hynds D.L.1 and Ghosh S.1 (2012) Role of Engineered Nanocarriers for Axon Regeneration and Guidance: Current Status and Future Trends.

Adv. Drug Delivery Rev.

64(1): 110-125. 1These authors contributed equally to this work.
*GhoshMitra S., Cai T., Diercks D., Hu Z., Roberts J., Dahiya J., Mill N.C.,

Hynds D.L.

and Ghosh S. (2011) Biological effects: Evaluation of externally tunable, hydrogel encapsulated quantum dot nanospheres in

Escherichia coli. Polymers 3: 1243-54.
*Katuru R., *Fernandes N.V., *Elfakhani M., *Dutta D., Mills N.C.,

Hynds D.L., King C. and Mo H. (2011) Mevalonate Depletion Mediates the Impact of Geranylgeraniol on Murine B16 Melanoma Cells.

Exp. Med. Biol.

236(5): 604-13.
*GhoshMitra S., Diercks D., Mills N.,

Hynds D.L.

and Ghosh S. (2011) Excellent Biocompatibility of Semiconductor Quantum Dots Encased in Multifunctional Poly(N-isopropylacrylamide) Nanoreservoirs and Nuclear Specific Labeling of Growing Neurons.

Appl. Phys. Lett.

98:103702.
Navarra-Madsen J., Bales R.A. and

Hynds D.L.

(2010) Role of Scholarships in Improving Success Rates of Undergraduate Science, Technology, Engineering and Mathematics (STEM) Majors.

Proced. Soc. Behav. Sci.

8: 458-64.
*Samuel F. and

Hynds D.L.

(2010) Rho GTPase Signaling for Axon Extension: Is Prenylation Important? Mol. Neurobiol. 42(2):133-42.
Ghosh S., Cai T., *GhoshMitra S., Hu Z., Diercks D., Mills N.C. and

Hynds D.L.

(2010) Alternating Magnetic Field Controlled, Multifunctional Nano-reservoirs: Intracellular Uptake and Improved Biocompatibility

Nanoscale Res. Lett.

5: 195-204.
*Seifert J.L., *Som S., and

Hynds D.L.

(2009) Differential Activation of Rac1 and RhoA in Neuroblastoma Cell Fractions.

Neurosci. Lett.

450(2): 176-180.
Hynds D.L., Rangappa N., Ter Beest J.M., Snow D.M., and Rabchevsky A.G. (2004) Microglia Enhance Dorsal Root Ganglion Outgrowth.

Glia

46(2): 218-223.
Hynds D.L., Spencer M., Andres D.A., and Snow D.M. (2003) Rit Promotes MEK-Independent Neurite Branching in Human Neuroblastoma Cells.

J. Cell Sci.

116 (10): 1925-1935.
Hynds D.L.

and Snow D.M. (2002) A Semi-Automated Image Analysis Method to Quantify Neurite Preference/Axon Guidance on a Patterned Substratum.

J. Neurosci. Methods

121(1): 53-64.
Johnson W.E.B., Caterson B., Eisenstein S.M.,

Hynds D.L., Snow D.M., and Roberts S. (2002) Human Intervertebral Disc Aggrecan Inhibits Nerve Growth In Vitro.

Arthritis Rheum.

46(10): 2658-2664.
Hynds D.L., Takehana A., Inokuchi J., and Snow D.M. (2002) L- and D- Threo-1-Phenyl-2-Decanoylamino-3-Morpholino-1-Propanol (PDMP) Inhibit Neurite Outgrowth from SH-SY5Y Cells.

Neuroscience

114(3): 731-744.
Hynds D.L.

and. Snow D.M. (2001) Fibronectin or Laminin Elicits Differential Behaviors from SH-SY5Y Growth Cones Contacting Chondroitin Sulfate Proteoglycans.

J. Neurosci. Res.

66(4): 630-642.
Snow D.M., Mullins N., and

Hynds D.L.

(2001) Neural-derived Chondroitin Sulfate Proteoglycans Regulate Growth Cone Morphology and Inhibit Neurite Outgrowth: a Light Epifluorescence, and Electron Microscopy Study.

Microsc. Res. Tech.

54(5): 273-286.
Courses and Teaching Responsibilities
Current Formal Courses:
ZOOL 3123 - Neuroanatomy and Neurophysiology. This course covers the basic structure (anatomy) and function (physiology) of the human nervous system. The emphasis is on understanding the functions of major nervous system divisions and pathways, how these functions are related to anatomical structures, and how structure and function is altered by neurological disorders. Successful completion of the course is worth three credit hours.
BIOL 4681 - Biology Seminar. Biology seminar is designed to provide upper level biology students experience in oral presentations. This involves library research of a biologically-relevant topic, organization of information into oral presentations and the actual presentation to other members of the class. The seminar is also designed to develop critical evaluation. For each presentation, members of the class critique the presentation according to guidelines established in the course.
BIOL 6903 - Signal Transduction. This course is a literature-based interactive discussion covering all aspects of signal transduction including first and second messengers, receptor function, and the role of phosphorylation. We cover basic classes of signaling molecules as well as defined signaling pathways and networks.
Dr. Hynds also mentors undergraduate and graduate students in research projects.
Page last updated 5:03 PM, November 11, 2020