Sue S. Bancroft Women's Leadership Hall
The Sue S. Bancroft Women's Leadership Hall at Texas Woman's University is an interactive digital history exhibition gallery that showcases the achievements of hundreds of women who were pivotal in advancing women's leadership in Texas. It is the flagship of the Jane Nelson Institute for Women's Leadership which is dedicated to preparing women to take on successful roles in business and public service.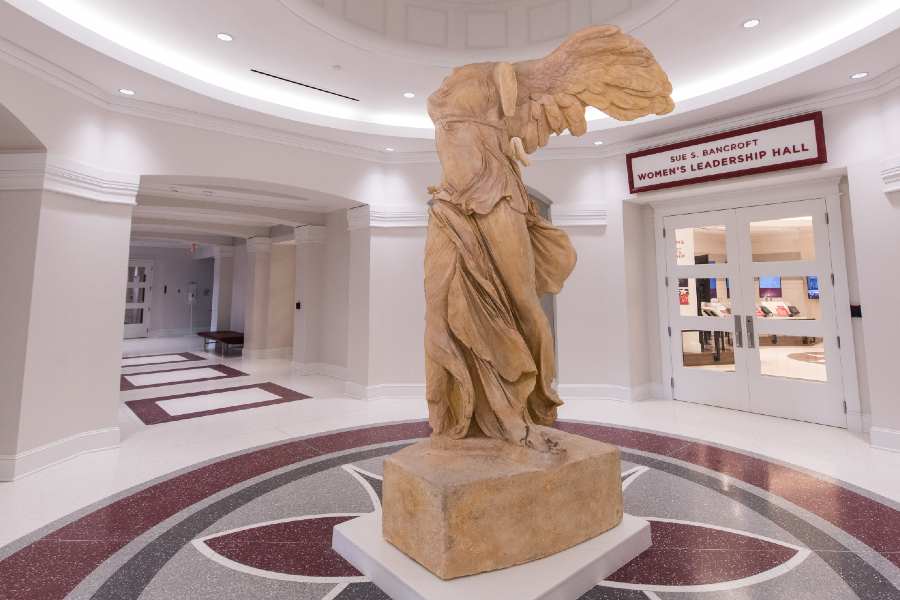 The gallery is located on TWU's Denton campus in the historic Old Main building which was constructed in 1903. The grand entrance features a replica of Winged Victory of Samothrace created for TWU at the Louvre in Paris.
In recognition of her community leadership in education and the arts, and for her dedication and generous support of women's leadership, the Hall is named for Sue S. Bancroft.
Pioneering Women
Learn about 12 Texas women from diverse backgrounds who discovered their passions and channeled their Texas grit to make a lasting impact on politics and public service.
Highlights include:
Touchscreens that allow visitors to navigate quotes, facts, and video or audio content for the women featured
Texas Voter screens which assist visitors in registering to vote or finding their elected officials
Rising Star interactive podium that creates the scene of a breaking news story on television. Visitors can read excerpts of speeches of the women featured and see themselves as the next rising star
2018 Election: Women Make History
This exhibit features non-incumbent women who ran for office in Texas during the historic 2018 midterm election—a year with an unprecedented number of women running. Highlights include a Texas counties map with more than 200 Texas women who contributed to the history of the state, and a display commemorating 17 African-American women elected as judges in Harris County in 2018.
Civics Learning Center
Here, visitors can learn about civics by playing Counties Work Texas, created by the Jane Nelson Institute in partnership with iCivics, a non-profit founded by U.S. Supreme Court Justice Sandra Day O'Connor. Select a character, create a county and help your citizens complete their tasks! You can also learn more about Justice O'Connor, including her childhood on a Texas ranch and her professional career, through artifacts from her life.
Minnie Fisher Cunningham: Texas Suffragist
This exhibit explores women's suffrage through the lens of Texas native Minnie Fisher Cunningham, a key leader whose efforts led to the passage of the 19th Amendment which granted women the right to vote in the U.S.
Loaning objects
If you wish to discuss the possibility of loaning an item to the exhibit, then please contact Elizabeth Qualia, Curator, at equalia@twu.edu or 940-898-2459.
Visit today
Ready to take a visit? We would love to show you around.
Hours:
Tuesday – Friday: 10 a.m. – 4 p.m.
---
FOR MORE INFORMATION OR TO SCHEDULE A TOUR:
Elizabeth Qualia, Curator equalia@twu.edu, 940-898-2459, twu.edu/lead
Page last updated 10:54 AM, April 21, 2023