East | West Galleries
"Circuit Breaker," East Gallery, 2016. Art by Luke Harnden, Micheal Morris, Darcy Neal. Photo by Deedra Baker.
The East | West Galleries at Texas Woman's University are dedicated to understanding and promoting contemporary art as a tool and catalyst for education. We consistently present exhibitions and programming that examine the cultural and social contexts around us, challenge contemporary perceptions of art making, and provide a framework for intellectual and creative inquiry.
By inviting established and emerging contemporary artists, designers, critics and curators of national and international stature from on- and off-campus, and by placing them in direct dialogue with students and local audiences, the East | West Galleries establish immediate relevancy in the university and community.
Two 1700 sq. ft. galleries complement the east and west wings of the Visual Arts Building and offer large, well-lit spaces for artists exhibitions. Each year internationally, nationally and regionally recognized artists are invited to exhibit works in solo and group exhibitions, offer lectures to university students and the local community, and lead critiques of student works in classes and studios.
Gallery details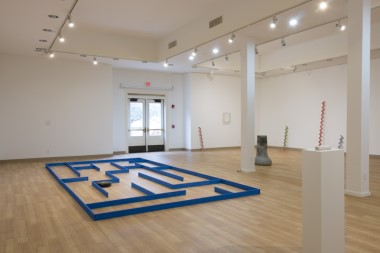 Hours
Monday – Friday, 9 a.m. - 4 p.m.
Location
Visual Arts Building
302 Pioneer Circle
Denton, TX 76204
Maps and parking
Our galleries are also used as exhibition spaces for M.F.A, M.A. and B.F.A. student qualifying exhibitions at the end of each semester. We also are a member of the Dallas Art Dealers Association.
Gallery floor plans
Contact
For more information regarding exhibitions, or to be added to our email invitation list, please contact:
Page last updated 3:31 PM, February 25, 2022