"The TW legacy will be there"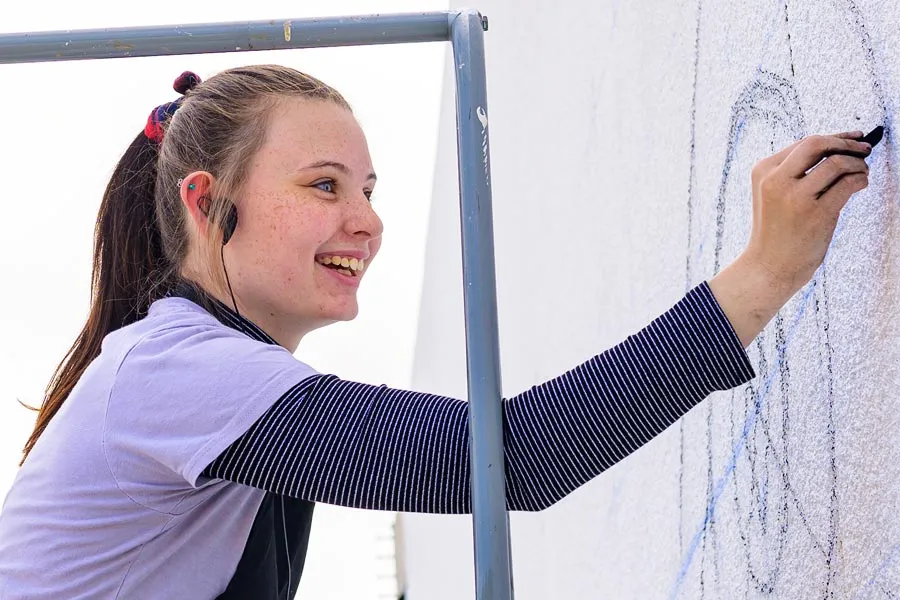 Chloe Selvey works on the mural at the corner of Third and Oakland
Mural class tackles massive challenge to brighten campus
Nov. 17, 2023 – DENTON – At the corner of Third Street and Oakland is a disheveled structure on the edge of Texas Woman's University campus. The building, empty for years, has a large stretch of discolored exterior wall that faces a faculty parking lot. It's the kind of wall of which no one takes notice.
Not for long.
The mural class of Visual Arts professor Giovanni Valderas is transforming that void with an enormous, colorful painting across the north side of the building.
"The TW legacy will be there," senior Rheyna Antoine said.
It's the second mural project for the course. Students in the 2022 class painted a mural called Corazón Radical in the student union on the walls of a gallery around stairs on the first level.
This year's project is a significant step up in complexity, presenting an array of real-world problems. There's the immense size of the wall, the surrounding environment, the condition of the building, the weather and the issue almost every artistic endeavor faces: budget.
"It's definitely a learning curve," Valderas said. "When you're painting outside as opposed to indoors, there's different responsibilities we face. But I think the students are gaining insider knowledge about how to put one of these murals up. It's about being creative problem solvers and utilizing our limited resources.
"People are already excited about the mural," he added. "If someone's having a bad day or maybe feeling unsure about their journey here at TWU, this mural can serve as inspiration. It's been great. People drive past and they already love the fact that it doesn't look so miserable."
As was the case a year ago, students in the mural class divided into teams to come up with designs, which were then evaluated by a panel of judges and a final design selected. The winning team is composed of Diane Cox, Rheyna Antoine, Felicity Sanders and Julia Almedia, and the mural is called Your Dream, Your Legacy.
"Our group, four total strangers," said Cox, who is a sophomore in her second stint at TWU, having earned a nursing degree in 1999 and served in the military in Afghanistan. "We'd never taken a class together. We went to the drawing board six times and failed six times. On the last one, I sat down for four days, locked myself away and said, 'you've got to figure this out.' I had it on graph paper and I rolled it out, and everybody said it hit all the marks I felt that we were looking for."
"This is a collaboration of all the ideas that we had," Antoine said. "We went through multiple sketches. Probably the most frustrating part was just trying to figure out a set design scheme to go with. But we figured it out. It was an incredible process. We heard each other's ideas, utilized each other's strengths. Diane and I are more old-school sketch artists, and Felicity and Julia are more the tech artists. We have a great team."
They even presented the judging panel with a scale model of the building.
"Felicity made a mockup, an actual building mockup that was shown to the jurors so they could visualize what this is going to look like," Cox said. "I can't say enough about everybody. It was a competition, so people lost, but the support that we've had has been phenomenal."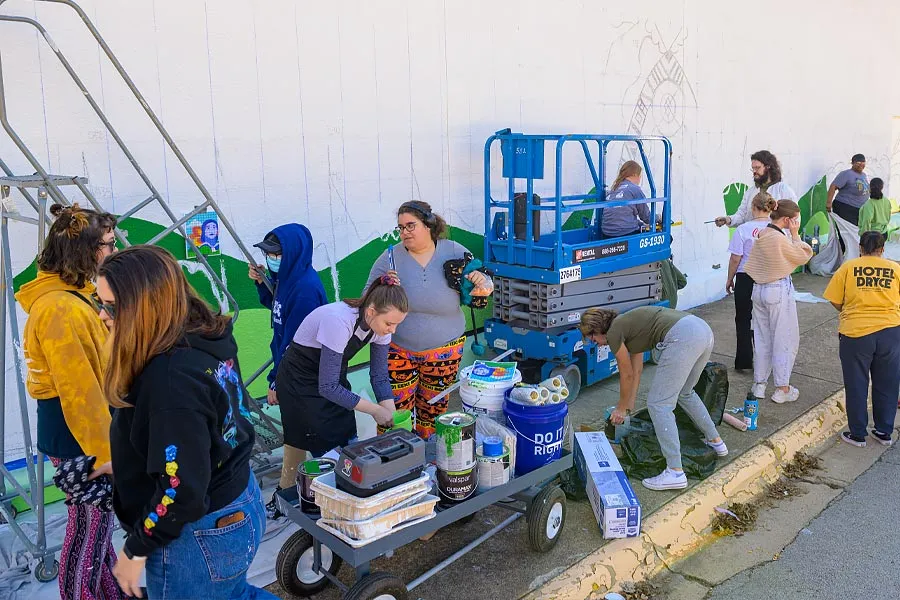 The concept for this year's project is diversity, which presents its own issues. The wall in question is big but not infinitely so.
"We tried our best to represent the major parts of university, the cultures and things like that," Antoine said. "We wanted to try to include as many people as possible, and that's why it's so colorful. There are people from all over the world here, so we tried to put in different aspects. But getting everyone in there was going to be impossible."
Not to mention which TWU and Denton landmarks to include and which to leave out.
"We narrowed that down to the areas that were most popular," Antoine said. "We have Minerva on one side. We have the admissions building, which is tallest on campus. We went on the TW Instagram page, and majority of the pictures were next to the fountain, so that's really a focal point as well."
But as the mural moved from theory to reality, the obstacles quickly arose. First up, the physical limitations of the wall. It doesn't extend down to the sidewalk, but stops several inches short and sits atop a thick concrete base.
"I was in charge of taking Diane's sketch and adding color and putting it onto the wall digitally," said Almeida, who has a background in graphic design and digital work. "One of the issues we're having is that our entire mural is kind of shortened. We started from the bottom of the grid, from the sidewalk. But because since it varies so much, we're losing some height. So, for example, the centerpiece was supposed to be higher, but with the way that the gridding has been done, we're unable to do that."
That, however, is working out well. The vertical center of the mural, which features a representation of the stained glass from the Little Chapel-in-the-Woods, is now much closer to eye level.
"It makes it more interactive for people," Almeida said. "If someone wants to take a picture, they don't have to walk across the street to take a photo. They can take a selfie right there and be able to be on the edge of the sidewalk and take a photo of the chapel or Minerva (positioned on the left side of the mural). And even though Minerva is going to be really big, she can still be seen and probably be photographed with a phone. You won't have to walk into the street to take a photo."
Dealing with all the colors called for in the design ran into the realities of a limited budget. Buying color after color of paint gets costly fast.
"We had to restrict our color palette because how expensive this paint is," Almeida said. "When I was working on it digitally, I made sure to try and keep all the colors at least within the same spectrum."
So instead of buying large quantities of a large number of color-specific paints, the crew is doing some of their own mixing.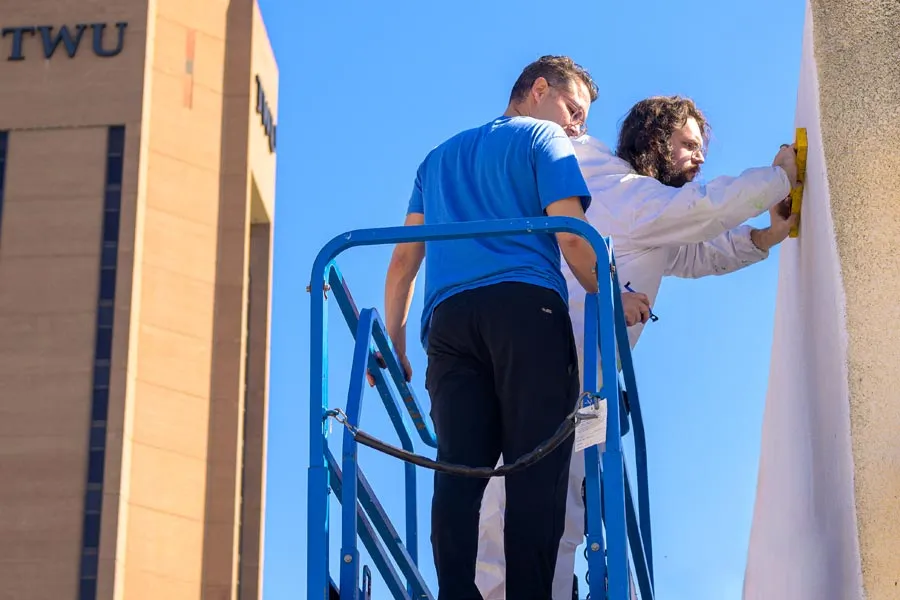 Then there is the issue of the wall's surface: stucco.
Stucco is aesthetically appealing, offering decorative texture and depth. It's great. Unless you have to paint it.
It soaks up paint, requiring multiple coats. The texture means paint spread by roller or brush, no matter how carefully applied, will miss spots and require touchups.
"It's been a while since I painted on a stucco," Valderas said. "I was surprised with how much Kilz (a primer) we needed. I think we factored in probably a gallon and a half, and we needed seven."
And stucco absorbs water, so wet weather has caused significant delays. Not only can the crew not paint in the rain, they have to wait for the wall to completely dry, otherwise water in the stucco would cause the paint to bubble and peel. And damp weather can slow paint drying.
"We are weeks behind because of the inclement weather," Antoine said.
There's the wall itself, a 70-foot-wide, 16-foot-tall canvas. To reach the upper portions of the mural, the crew is using ladders and a scissors lift. The class is not permitted to work from the building's roof, which is considered unsafe, nor are they allowed to use scaffolding, which provides a much larger work area but involves the risk of falls.
"It's very intimidating because just one thing can go wrong very quickly," Sanders said. "With the texture of the wall being stucco, I think once we get our colorful paint on, it'll be kind of easier to see how smooth the lines can go, since we're sketching with charcoal at the moment and it has a rigid texture. It's daunting."
Then there's the setting. Last year's mural was inside the student union, in an area with limited foot traffic. This year is not only outdoors, the crew's work area is an eight-foot-wide stretch of sidewalk along busy Third Street. So if an artist wants to take a step back to evaluate their work, they better watch before stepping into the street. And all of the crew's gear has to be taken away at the end of each day, because conditions inside the building don't allow for storage of paint and equipment.
Despite all the obstacles, progress is being made. The original plan was to finish before Thanksgiving, but now it's looking like completion in early December.
"When I started painting murals at their age, these are all things I learned through years of trial and error," Valderas said. "My biggest excitement is knowing that they can go out and produce a mural for someone else, and they'll have the majority of knowledge that they need.
"I feel really good about this one," he added. "My hope is that everyone will, too, and this will be a destination. When people graduate, they want to take a photo in front of the mural."
"I know we'll be able to make TWU proud," Sanders said, "and be proud to put our names on it."
Media Contact
David Pyke
Digital Content Manager
940-898-3325
dpyke@twu.edu
Page last updated 3:13 PM, November 16, 2023