Willie Lee Glass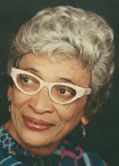 1985 Inductee
Civic Leadership
(1910-1999)
Willie Lee Glass of Tyler was the first African-American appointed statewide consultant for the Texas Education Agency. She was the national founder of Top Ladies of Distinction, an organization with more than 2,000 members dedicated to improving the quality of life for youth, senior citizens, and women. She also served as the first national director of Top Teens of America and on the board of directors of numerous medical institutions.
Mrs. Glass was a former member of the advisory board of the Hogg Foundation for Mental Health and served on the State of Texas Board on Aging. She was the only woman in Tyler to receive the United Way of Greater Tyler Community Award (1981), and five governors throughout the years selected Mrs. Glass to participate in the White House Conference on Aging.
Mrs. Glass was a retired state consultant of home economics, a position she held with the Texas Education Agency from 1950-1974. She received her bachelor's degree from Prairie View A&M University and her master's degree from Iowa State College. She taught home economics at Prairie View A&M, Texas College in Tyler, Virginia State College and Nacogdoches High School.
Page last updated 4:24 PM, March 4, 2020