Wilhelmina Ruth Delco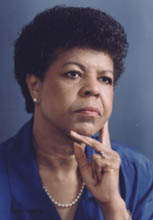 1986 Inductee
Education
Wilhelmina Ruth Fitzgerald Delco devoted more than three decades to public service. In 1968, Delco was elected to the Austin Independent School District Board of Trustees as the first African American elected to public office in Austin. Delco later served 10 terms in the Texas Legislature and served on more than 20 different committees.
In 1991, she became the first woman appointed Speaker Pro Tempore. Throughout Delco's legislative career she was appointed, served in leadership capacities, and received top honors from nearly every national education board in the country. Delco's consistent dedication to education gained her a national reputation in the field of higher education.
Delco retired from the Texas Legislature in 1995 but remains an active force in higher education. She chaired the national boards of the United States Department of Education's National Advisory Committee on Institutional Quality and Integrity and the Compact for Faculty Diversity. Delco is also an adjunct professor at the University of Texas at Austin.
Page last updated 11:20 AM, February 5, 2020