Trinidad Mendenhall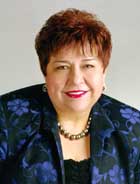 2004 Inductee
Business
In 1972, Trinidad "Trini" Mendenhall and her late husband co-founded Fiesta Mart, Incorporated, a 45-store retail grocery chain in the Houston, Austin, and Dallas-Fort Worth Metroplex. With more than 6,500 employees, she serves as vice-chair of Fiesta Mart's Board of Directors

Ms. Mendenhall is the president of Fulton Shopping Center, a real estate investment company located throughout Houston. She also serves as vice president of First Quality Fruit & Produce Company, which brings fruits and vegetables from different parts of the world for sales and distribution in the Houston area.

In 1997, Ms. Mendenhall fulfilled her philanthropic dream and created the Trini and O.C. Mendenhall Foundation, which empowers women, minorities and children. In September 2002, she established the Mendenhall Asthma Research Laboratory at Baylor's Biology of inflammation Center in memory of her husband.

Ms. Mendenhall serves on the advisory board of Economic Development Stakeholders, the board of trustees for the Baylor College of Medicine and is vice-chair of the Capital Campaign Committee at Baylor. Ms. Mendenhall is a member of the board of trustees for the diocese of Galveston-Houston Development Board, The University of St. Thomas, and the Houston Ballet. In addition, Ms. Mendenhall serves as a member of the University of Houston's Center for Mexican American Studies Excellence Endowment Campaign Committee and the United Way's Alexis de Tocqueville Society and Women's Initiative.

Ms. Mendenhall's deep commitment to children and the Houston community is reflected in her work on the board of Catholic Charities of the Diocese of Galveston-Houston. She served as board chair from 2002-2004. In addition, she serves on Catholic Charities' Nominating, Executive, and Finance Committees.

Ms. Mendenhall is a recipient of the Gaia Award presented by the Susan G. Komen Breast Cancer Foundation, Woman of Distinction Award by the Crohn's Colitis Foundation of America, the Willie Velasquez Hispanic Excellence Award and named one of Houston's 2000 Millennium Makers by the Evin Thayer Foundation. In 2001 she was recognized as a Star Among Us by the Alliance for Multicultural Community Services.
Page last updated 4:15 PM, October 9, 2019