Tommie Clack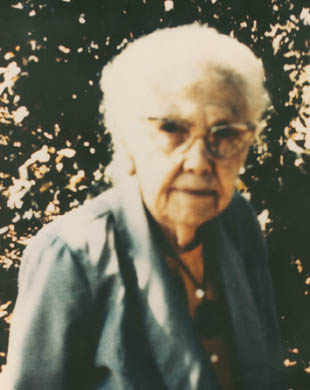 1987 Inductee
The Pioneer Award (Special Award)
(1882-1989)
Tommie Clack of Abilene received a special award for her contributions on a variety of levels to the betterment of women and all Texans. Known as "Miss Tommie" to friends, she lived 106 years in west Texas. She was born on April 29, 1882, in a picket house on Lyte Creek, one year and one month after a station on the newly built Texas and Pacific Railway was named Abilene.
In 1979, she co-authored Pioneer Days—Two Views. She was an early member of the West Texas Historical Association and a founding member of the West Texas Genealogical Association. She wrote numerous articles on pioneer life, genealogy and other related subjects about Texas.
Miss Clack received degrees from Peabody College in Nashville, Tennessee, and McMurry College in Abilene and, later, continued her education at the University of California at Berkeley. An early Texas educator, she taught school in Clyde, Colorado City, Midland, Seminole, Dallas and Abilene. She retired from Abilene High School in 1959.
An active participant in historical observances during the Texas Sesquicentennial, she was described by the Abilene Reporter-News as "Abilene's best known and best loved" face.
Miss Tommie, the "First Lady of Abilene," died March 2, 1989.
Page last updated 10:52 AM, February 5, 2020