Tillie Burgin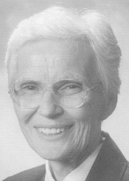 2000 Inductee
Civic, Volunteer & Family Leadership
Tillie Burgin is a remarkable leader and a far-reaching visionary with energy and ability to enlist people in visions bigger than they are. People and service are Ms. Burgin's passion and mission in life. Prior to founding Mission Arlington, Ms. Burgin had a distinguished career as an educator. She was the director of Personnel for the Arlington Independent School District from 1983-1986.
Tillie Burgin's international missionary life spanned 11 years in three decades in South Korea, where she taught English and worked with Korean youths in churches. As director of Mission Arlington, Ms. Burgin began her work with two bible studies a week and has now created a citywide ministry called Mission Arlington. Through Ms. Burgin's unique ministry with Mission Arlington, she has been able to reach out to the entire city with one goal in mind: to meet the community's needs.
The following are a few examples of the impact of Ms. Burgin's service on the city of Arlington: more than 220 Bible studies a week, a medical clinic, a dental clinic, a crisis counseling office, a day shelter, job training, an adult day care facility, and summer camps for inner city children. In one month, Mission Arlington aids 5,400 families with clothing, food, utilities, transportation, and furniture.
Ms. Burgin has set the model for many to follow. Her passion is contagious and has helped people all over the state feel that they have something to give.
Page last updated 10:37 AM, February 5, 2020