The Honorable Senfronia Thompson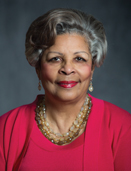 2014 Inductee
Public Service
Senfronia Thompson has served longer in the Texas Legislature than any other woman or African-American in Texas history. Born in Booth, Texas, her historic legacy is one built from her strong principal of faith, an unwavering defense of freedom and a staunch belief in fairness. This veteran public servant exemplifies the American ideal that one person can make a difference.
A Houston attorney, Thompson was first elected to the Texas House of Representatives in 1972 and has served Northeast Houston and Humble with distinct honor for over 40 years. Her toughness and compassion in standing up for the "little dogs" has earned her an impressive legislative resume. She is the author of the James Byrd Jr. Hate Crimes Act, the Sexual Assault Program Fund, the Contraceptive Parity law, the state's minimum wage law, laws creating drug courts, Texas' first-ever alimony law and Texas' first-ever smoking ban bill, prohibiting smoking in elevators, theaters, libraries, museums, hospitals and buses.
In 1977, she used her own personal funds to convince the U. S. Department of Justice and the U.S. Department of Education to investigate the discriminatory funding practice against Prairie View A&M and Texas Southern University. As a result of Thompson's tenacity, both universities received, and continue to receive, extra federal and state funding. A former public school teacher, Thompson submitted an amicus curiae brief that was favorably cited by the Texas Supreme Court when they declared Texas' old public school finance system unconstitutional.
A graduate of Texas Southern University, Thompson earned a law degree from Thurgood Marshall School of Law; a Masters of Law from the University of Houston; and is a proud member of the Alpha Kappa Alpha Sorority.
An award-winning legislator and acknowledged civil rights leader, "Mrs. T" is the only recipient of the Rosa Parks Award from the Texas Legislative Black Caucus, which is inscribed with these fittingly gracious words and a true compliment to a dedicated public servant: "Your hard-won statewide reforms are made only more remarkable by the obstacles you have overcome. Your peers laud your achievements and future generations will not forget your contributions."
Page last updated 9:43 AM, May 18, 2022