The Honorable Carolyn Wright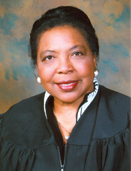 2014 Inductee
Public Service
With her historic 2009 appointment by Governor Rick Perry as Chief Justice of the Fifth District Court of Appeals, Carolyn Wright leads the largest intermediate appellate court in Texas, with 13 justices serving six Texas counties. She is the first African-American to serve as Chief Justice on any of the 14 intermediate courts of appeal in Texas, and the first African-American woman to win a multi-county election in Texas history. A Texas judge for over 30 years with civil, family, criminal and mediation experience, Wright served as a practicing attorney, Dallas County associate judge and state district judge before being appointed as a Justice on the Court of Appeals by Governor Bush in 1995. Over her storied career she has authored thousands of legal opinions in cases involving legal issues in every area of Texas law.
Tireless in her efforts to improve the Texas judicial system, Wright is richly generous with her time outside of her commitments to the court. She has actively participated as a member of the faculty, mentor, and leader in many organizations including the Texas Bar Foundation, Dallas Bar Association, the Texas Center for the Judiciary and the National Judicial College. She handles all of her responsibilities with a professional, caring attitude, enriching committees, boards and panels with her unique talents and abilities. Wright is unsurpassed in her ability to motivate young, would-be lawyers, instilling in them a passion for the legal profession, integrity, and justice. The same is true of her dedication to the countless Texans whose lives have been touched by her volunteerism as a Rotarian and Paul Harris Fellow and a member of Hamilton Park UMC, the Links, Inc., the Jordan CDC and a host of other groups.
Chief Justice Wright has been recognized by a long list of distinguished organizations. Her many awards include the National Association of Women Lawyers' Leadership Award and the American Bar Association Business Section's Award for contributions to women and proficiency in law. Governor Bush presented Wright with the Yellow Rose of Texas Award for significant contributions to her community; and she was Governor Clements' appointee to the Governor's Commission for Women.
A fourth-generation Texan born in Houston, reared in a career military family, Wright has lived throughout the United States and Japan. She is married to James Sanders and graduated from the Howard University School of Law in Washington, D.C., where she received the Distinguished Alumni Award.
Page last updated 9:58 AM, May 18, 2022