Terese (Terry) Tarlton Hershey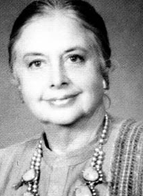 1989 Inductee
Civic Leadership
(1923-2017)
Terry Hershey was a leading environmental activist in the Houston and Harris County area for many years, and a member of the Texas Parks and Wildlife Commission since 1991. She was one of the founding members of Houston and Harris County's environmental groups.
The Park People, the Citizens Environmental Coalition and the Bayou Nature Center owe much of their success to the efforts of Ms. Hershey. She activated and became vice president of the Board of the Bayou Preservation Association and was a founding member of the board of the Sam Houston Resources Conservation and Development Area. In 1967, she became a founding member of Citizens Who Care. She fought to keep Galveston Bay and the Gulf Coast clean, to protect the natural beauty of state waterways, rivers and bayous, and to enhance highways and other open spaces with wildflowers.
For her efforts in conservation and preserving the environment she was named the Outstanding Citizen Environmentalist of the Year, and Houston City Magazine named her one of Houston's 20 most influential women.
In 1994, the Terry Hershey Award for Excellence was established to recognize significant contributions to the development of recreation, parks and tourism by a practitioner, board member, elected official or volunteer.
Ms. Hershey also served on the Texas Parks and Wildlife Commission in the mid-1990s and served on the Texas Advisory Council: The Trust for Public Land in 2002.
She attended Stephens College for Women at Columbia, Missouri, and the University of Texas where she received a bachelor of fine arts degree in philosophy.
Page last updated 4:24 PM, March 5, 2020