Sybil B. Harrington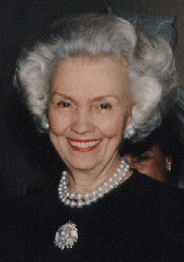 1996-1997 Inductee
Arts
(1908-1998)
Sybil Harrington, an ambassador of the arts nationally, statewide, and in her native area of West Texas, generated a profound effect on the arts and preservation. In the late 1970s and early 1980s Mrs. Harrington expanded the scope of the Don and Sybil Harrington Foundation by initiating many significant and often first-of-a-kind projects.
Mrs. Harrington advocated an extension of the appreciation and understanding of grand opera into millions of homes through television and radio. Her devotion to preserving Texas' heritage and historical structures was evidenced by her support of historic preservation projects in Galveston, support of the Texas Heritage Trust Fund and the Texas State Historical Associations revision of the "Handbook of Texas."
She also spawned great artistic endeavors in the Texas Panhandle. Panhandle-Plains Historical Museum was significantly improved by the construction of a new wing to showcase the impact of the petroleum industry. "Texas," the musical outdoor drama presented annually in Palo Duro Canyon amphitheater, tells the story of Texas' early history in song and dance and has played to over two million people. The donation of the Harrington family home, furnishings and art to the State of Texas is a treasure for Texas.
She created a cultural environment filled with music, dance, theater, historic preservation and literary awareness. A few of the numerous awards she received include: Amarillo News-Globe, Woman of the Year; Texas Tech University School of Medicine, Doctor of Letters; West Texas A&M University, Honorary Doctor of Philosophy Humanitarian Award, Women's Distinguished Service; American Institute of Architects, Honorary Member of Texas Society of Architects; Academy of Television Arts and Science, Outstanding Classical Program in the Performing Arts.
Sybil Harrington died September 17, 1998.
Page last updated 4:10 PM, March 5, 2020