Susan Combs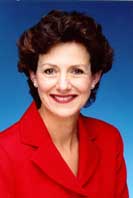 2004 Inductee
Public Service
Susan Combs, a fourth-generation rancher and Texan, was sworn into office in 1999 as the state's 10th commissioner of agriculture and the first woman to hold this position in the state's history. She was overwhelmingly re-elected to the position in 2002.
Combs received her law degree from the University of Texas School of Law and is a former assistant district attorney in Dallas. She served in the Texas Legislature from 1993-199,6 writing the state's major private property rights legislation. She was also a member of the House Committees on Natural Resources and Criminal Jurisprudence. In 1996, she joined the staff of U.S. Senator Kay Bailey Hutchison and worked as the senator's state director.
Combs served on the boards of the Texas and Southwestern Cattle Raisers Association, Texas Wildlife Association, Texas Natural Resources Foundation and on the national advisory board for Texas Wild. She served on the board of directors of the Texas Beef Council and the Texas Production Credit Association and is a member of the Texas Farm Bureau and the Independent Cattlemen's Association of Texas.
In November 2000, Combs received the Texas Tech University Gerald Thomas Outstanding Agriculturalist Award, which honors those who have made significant contributions to agriculture. In 2002, she was named Progressive Farmer's Leader of the Year in Texas Agriculture. In 2004, Commissioner Combs was recognized at the Time-ABC News Summit on Obesity as one of six national heroes in the fight against obesity and for her work to promote better nutrition in Texas schools.
Combs still maintains a cow-calf operation in Brewster County on the ranch established by her great-grandfather more than a century ago.
Page last updated 11:00 AM, February 5, 2020