Sister Angela Murdaugh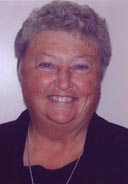 2002 Inductee
Health and Social Sciences
Sister Angela Murdaugh, a Franciscan Sister of Mary, went to the Rio Grande Valley after receiving a master's degree in nurse-midwifery at Columbia University. She was appalled to discover that women in that area were forced to travel at least 25 miles to receive basic prenatal and childbirth care. This led her to establish the first freestanding birth center in Texas in 1972.

In 1983, after returning from Washington, D.C., where she was president of the American College of Nurse Midwives, Sister Angela created the Holy Family Birth Center in Weslaco. By 2002 the infant mortality rate in Hidalgo County was cut in half due to the center, declared so successful that it was emulated nationally.

In addition to providing prenatal care and delivery services, the Holy Family Birth Center focuses on childbirth education, postpartum home visits, social services, clinic transportation and childhood immunizations.

The center is a place where nurse-midwives can improve clinical skills. As an accredited, premier freestanding birth center, the nurse-midwifery clinical fellowships at Holy Family are highly sought after from students across the nation. Nearly 100 nurses and 100 clinical nurse midwives have received training at the center.

Sister Angela created partnerships that allow her staff to visit local schools and factories and teach general health concepts as well as healthy pregnancy and baby classes.

Sister Angela's vision of improving health services led her into legislative and administrative arenas as well. She was instrumental in obtaining an attorney general's opinion that defined the legal basis for midwifery practice in Texas. She also served on the Texas Department of Health's advisory committee that authored the Texas Birth Center Rules and Regulations in 1986.

Sister Angela also helped write the National Association of Childbearing Center's Standards for Birth Centers. Her tireless determination has led to recognition of nurse-midwives as qualified Medicaid providers, and in 1989 she received the first Medicaid provider number issued to a certified nurse midwife in the state.
Page last updated 12:00 PM, September 7, 2022