Sheryl Swoopes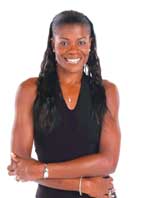 2004 Inductee
Physical Fitness/Athletics
Sheryl Swoopes has stormed onto the sports scene as one of the nation's foremost athletes. She has received tremendous recognition both on and off the court.

Ms. Swoopes' career has been defined by record breaking accomplishments. After graduating from Texas Tech University, she was named the National Player of the Year by eight different organizations, including USA Today and Sports Illustrated. In addition she was honored with the Babe Zaharis Female Amateur Athlete of the Year Award, and ESPY for Best College Female Basketball Player and Team Player of the Year by the Women's Sports Foundation.

Ms. Swoopes made history as the first player to sign with the Women's National Basketball Association. As the star forward on the Houston Comets, she has led her team to three consecutive championships. She has been named to the All-Women's National Basketball Association First Team four times. A three time Olympian, Ms. Swoopes earned gold medals at the 1996, 2000 and 2004 Olympic Games. Acting as an ambassador of goodwill, Ms. Swoopes represented the United States in China during the 2002 World Championship Games.

Throughout her professional career Ms. Swoopes has been honored with numerous awards for her achievements. She has been inducted into the Texas Tech University Hall of Fame, voted the Women's National Basketball Association's Most Valuable Player and Defensive Player of the Year, received an ESPY for Female Professional Basketball Player of the Year, named one of Houston's Living Legends, and was the first female athlete to have a Nike shoe named for her, the "Air Swoopes."

Ms. Swoopes' achievements extend off the court as well. Inspired by her mother, she educates and empowers children through the Sheryl Swoopes Foundation for Youth. She also serves on the Board of Judges for the Talbots Charitable Foundation's Women's Scholarship Fund, which awards $100,000 in college scholarships to women seeking a undergraduate degree later in life. In addition, she co-authored a book entitled Bounce Back, in which she shares her personal story of triumph and encourages others to bounce back from adversity.
Page last updated 4:51 PM, October 9, 2019