Selena Quintanilla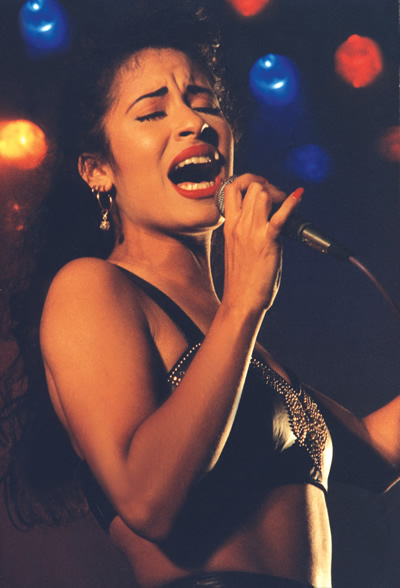 2016 Inductee
Arts
(1971-1995)
"The impossible is always possible." More than just her favorite quote, those four words capture the meteoric rise of a young Latina who defied expectations, becoming a Grammy Award-winning recording artist whose contributions to music and fashion made her one of the most celebrated Mexican-American entertainers of the 20th century. More than two decades after her death, she is still known by one name: Selena. Doing what others said could not be done, Selena earned the title "Queen of Tejano Music" for her eclectic style and powerful voice.
Selena was born in Lake Jackson, Texas, in 1971. Her family struggled financially as the recession hit her father's restaurant. Turning to music, his first love, her father started a family band — Selena y Los Dinos — featuring son, A.B., on bass, and daughters Suzette, on drums, and Selena, age 9, as the lead vocalist. They performed at fairs, weddings and quinceañeras — anywhere they could earn money for the family. Though her voice was already bigger than her small size, dance hall promoters doubted she could perform as a headliner in the then male-dominated Tejano music genre.
Selena would prove them wrong, later filling the Houston Astrodome with 66,994 adoring fans in 1993, with 66,842 in 1994 and with 64,831 in 1995.
Selena first won Tejano Music Awards' "Female Vocalist of the Year" in 1986 at the age of 15, and from 1987 to 1996 she continued winning as vocalist and as "Female Entertainer of the Year," along with other awards such as "Song of the Year." In 1996, even after her death, she won almost all categories.
In 1989, she signed with Capitol Latin EMI and gained international fame. In 1993, "Selena Live!" won the Grammy for best Mexican-American album. In 1994, she released her double-platinum album "Amor Prohibido" and opened her boutique clothing store and salon, Selena Etc. Selena was at the highest point in her career, but she was still striving for more. She enrolled in college to study business and was active in urging kids to better themselves by staying in school, abstaining from drugs and working hard to attain their goals. Her message was simple: Follow your dreams and work hard. With her darker skin, dark hair and a body type different than other celebrated stars of the day, young Latinas not only saw themselves in Selena, they saw that beauty begins within.
Before her untimely death in 1995, she started work on an English-language crossover album. "Dreaming of You" was released posthumously and became the best-selling Latin album of all time, debuting at No. 1 on the Billboard 200 chart and selling 175,000 copies on its very first day of release.
Selena's story continues to inspire people around the world. She is remembered as an icon for her musical accomplishments as well as for the joy that the memory of her charismatic personality continues to bring to her fans.
Page last updated 4:40 PM, June 16, 2022