Sandra Day O'Connor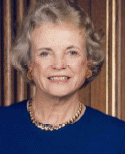 2008 Inductee
Leadership
Sandra Day O'Connor, the first woman to sit on the United States Supreme Court, had to keep up with the big boys early in life. O'Connor was born in El Paso, but grew up on the Lazy B Ranch in southeast Arizona. Founded by her grandfather 30 years before Arizona statehood, the Lazy B had almost 200,000 acres of land and over 2,000 cattle. Sandra's earliest friends on the remote ranch were good books, a pet bobcat and a few javelina hogs. By the age of eight, she could drive a truck, mend a fence and fire a .22 rifle.

Sandra's ranch life was counterbalanced by school years spent in El Paso with her maternal grandmother. Sandra graduated from high school at 16, and went west to Stanford University to earn her bachelor's degree in Economics. At Stanford Law School, where she met her future husband, she finished high in her class, along with her future Court colleague, William H. Rehnquist.

Rejected by law firms refusing to hire women – though one did offer her a legal secretary job – O'Connor found professional acceptance as a deputy county attorney, a civilian lawyer for the Quartermaster Corps and an assistant state attorney general.

Involved in Republican politics, she was appointed in 1969 to replace an Arizona state senator; she won reelection for two terms, and in 1972, was elected Senate Majority Leader, the first woman to hold the position in any state.

O'Connor was elected to a state judgeship, and then appointed to the Arizona Court of Appeals, where she received the call from President Ronald Reagan nominating her as an Associate Justice. O'Connor served for 25 years, becoming known for her individual and even-handed approach to each case.

Since her 2006 retirement, O'Connor has been vocal about the effect of political pressures on the independence of the courts and on Constitutional freedom. She has also worked diligently against Alzheimer's Disease, from which her husband suffers.

Justice O'Connor's distinguished career and profound inspiration to women have earned her myriad honors, including induction into the National Cowgirl Hall of Fame, the Liberty Medal from the National Constitution Center and the renaming of Arizona State University's law school as the Sandra Day O'Connor College of Law.
Page last updated 4:24 PM, October 9, 2019