Sally K. Ride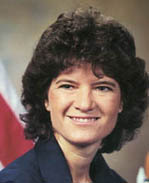 1986 Inductee
Science and Technology
(1951-2012)
Dr. Sally Ride of Clear Lake, a former NASA Astronaut and the first American woman in space, was the co-founder and CEO of Imaginary Lines, Inc., a company dedicated to encouraging more young girls to pursue math and science fields.

She served on two space missions as a mission specialist. On the first mission in June 1983, she utilized a remote mechanical manipulator arm to deploy and retrieve satellites and other space payloads. Her most important task was the deployment and recapture of a 3,300-pound space laboratory built by West Germany. On her second mission, the crew deployed the Earth Radiation Budget Satellite, conducted scientific observations of Earth and demonstrated potential satellite refueling.

Training for her third space flight was interrupted by the Space Shuttle Challenger accident, and Dr. Ride served as a member of the presidential commission investigating the accident. She then served as NASA's first director of strategic planning, initiating strategic planning and producing a report on the future of the space program.

She was a member of the Pacific Council on International Policy and the President's Committee of Advisors on Science and Technology. Dr. Ride was also the Ingrid and Joseph Hibben Professor of Space Science at the University of California, San Diego.

Dr. Ride received numerous awards, including the Jefferson Award for Public Service, the Women's Research and Education Institute's American Woman Award. Twice she was awarded the National Spaceflight Medal.

She was the author of four children's books, To Space and Back, Voyager: An Adventure to the Edge of the Solar System, The Third Planet: Exploring the Earth from Space and The Mystery of Mars.

Dr. Ride attended Stanford University majoring in physics and English literature. She received her master's and doctoral degrees in physics from Stanford.

Sally Ride died July 23, 2012.
Page last updated 4:44 PM, June 16, 2022