Ruby Lee Piester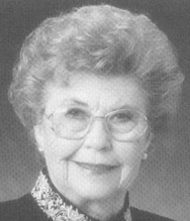 1996-1997 Inductee
Civic Leadership
(1915-2003)
Ruby Lee Piester's leadership skills through employment and personal involvement in adoption issues resulted in the permanent adoption of an estimated 7,800 foster children in Texas. Approximately half of her 50 years of service to the State of Texas was spent in affiliation with the Edna Gladney Home, first as director of social services, then for 20 years as the executive director.
Her association with various boards and directors of social agencies resulted in the first Child Welfare Advisory Board for Regional Licensing, which was established in Fort Worth for the State Department of Public Welfare. She also organized the Study Committee for the National Council for Adoption.
In 1980 she introduced the model Adoption Act to the Texas State Legislature that was passed to protect the confidentiality of biological mothers of adopted children. In 1991 she helped establish "Adopt A Special Kid, Texas," an agency specializing in the adoption of special needs children.
At the national level Mrs. Piester co-founded the National Council for Adoption and served as vice president. She also represented the State of Texas on numerous committees including the Texas Governor's Committee to Promote Adoption, the Governor's Commission for Children and Youth, the State Advisory Committee on Child Care Facilities and the Texas Association of Licensed Maternity and Adoption Services.
Mrs. Piester developed and implemented new avenues to make permanent adoption for Texas children a reality, and to insure that children are reared with love and hope for the future.
Page last updated 4:29 PM, October 9, 2019