Rosa Ramirez Guerrero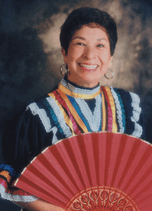 1994 Inductee
Arts
Rosa Ramirez Guerrero's efforts as an artist, educator, dance historian and humanitarian enhanced her commitment to promoting cultural awareness and resulted in her developing the first intercultural programs within the El Paso Public schools in 1970 where she taught for 20 years.
She was awarded a Life Membership with the Texas PTA and was the first Hispanic woman in El Paso to have a school, Rosa Guerrero Elementary, named in her honor.
Ms. Guerrero founded and became the artistic director of the International Folklorico Dance Group. Her film "Tapestry," on creating cultural harmony and understanding, was honored with a national award for documentary filmmaking.
She received many honors, including Outstanding Woman in the Arts (Women's Political Caucus); Outstanding Woman Artist in El Paso (the Mexican American National Association); one of the Outstanding Hispanics in the Southwest (Adolph Coors, Co.); and Outstanding Hispanic of El Paso (the University of Texas at El Paso).
Among her other awards are the Valley Forge Freedoms Foundation Award; the LULAC Arts and Humanities Award; the Human Relations Award (Texas State Teachers Association); and the Good Samaritan Award (Catholic Media Ministries of El Paso). Ms. Guerrero also received the Setoma Service to Mankind Award, the Arts Alliance Individual Dance Award, and the Adelante Mujer Hispana V Award for her continuous support of the advancement of Hispanic women.
She has been called "a tapestry of many cultures whose mission is to share this tapestry of cultural diversity, and how it is woven, with all people."
Ms. Guerrero earned her bachelor's and master's degrees from the University of Texas at El Paso and was named a Distinguished Alumnus in 1997.
Page last updated 5:09 PM, March 4, 2020