Rita Crocker Clements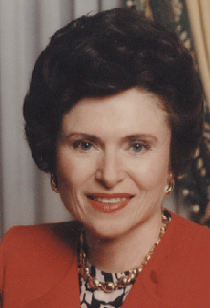 1996 Inductee
Civic
(1931-2018)
Rita Crocker Clements of Dallas, the First Lady of Texas during her husband's two terms as Governor, is best remembered for her tenacious leadership in restoring the Governor's Mansion. Through her efforts, the deteriorating 19th century Greek Revival-style mansion was returned to its original appearance with the financial backing of private donors.
Mrs. Clements supported, maintained and gave importance to the Governor's Commission for Women through a fair and equitable appointment process that recognized, as members of the Commission, some of the most outstanding women in Texas.
Mrs. Clements received numerous awards and recognitions. A few of these honors include: the Ruth B. Lester Award from the Texas Historical Society, Women in the Art Award, Distinguished Alumni Award from the University of Texas at Austin, Distinguished Service Award from the Texas Women's Alliance, Hats Off Award from the Associated Republicans of Texas and the Distinguished Service Award from the Texas Department of Commerce.
At the national level, Mrs. Clements served as Chairman of Campaign Activities for the National Federation of Republican Women Board and as a member of the National Women's Coalition and the White House Endowment Fund.
Mrs. Clements offered support for a vast range of civic organizations in the areas of health, social sciences, education, philanthropy, finance, beautification, communications, religion, volunteerism, literacy and the arts. She was also a supporter of tourism in Texas and nationwide.
Page last updated 10:54 AM, February 5, 2020