Renu Khator, Ph.D.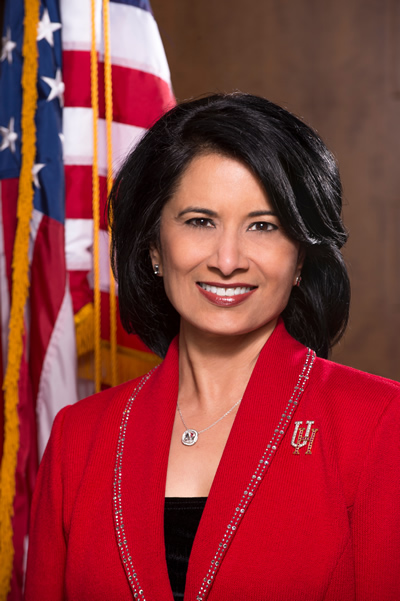 2016 Inductee
Public Service
She could not speak the language when she first came to the United States from India as a young newlywed, but that did not stop Renu Khator from pursuing a master's degree from Purdue University in Indiana — at age 19. Through hard work and tears, and with the support of her husband who was also a student, she taught herself to speak English by watching I Love Lucy reruns and completed her master's one year later.
After her two daughters were born, she returned to school, earned a doctorate and began teaching. Today, Dr. Khator is chancellor of the University of Houston System and president of the University of Houston, the system's flagship institution and third-largest university in the Lone Star State.
Appointed in 2008, Dr. Khator is the first Indian immigrant to head a comprehensive public research university in the United States and the first female chancellor of a Texas higher education system. Though she came from a community where higher education for girls was not considered a priority, Dr. Khator is quick to deflect praise for her amazing life journey. Believing humility is a key ingredient to success, she credits the opportunities offered only in America and the support she received from so many who believed in her along the way.
After only eight years in Texas, her roots have already grown deep. "Texas is a can-do state," she says, "People come here for the opportunity to succeed; it doesn't matter where you come from."
Inspiring others to succeed through education is her passion. At the University of Houston, Dr. Khator works with one of the most diverse student populations in the nation. She tells her students that she will not let them drop out. Instead, she offers her email address and continues to counsel and encourage them. During her tenure, the University of Houston has become a research powerhouse, earning Tier One status and entering the top echelon of research universities as ranked by the Carnegie Foundation. The University of Houston has also seen record-breaking research funding, enrollment and private support under Dr. Khator's leadership.
Born in Uttar Pradesh, India, Dr. Khator earned a bachelor's degree at the University of Kanpur before attaining her master's degree in political science and Ph.D. in political science and public administration from Purdue University. She is a noted scholar in the field of global environmental policy and a recipient of the Pravasi Bharatiya Samman Award which is the highest award given to a non-resident Indian from the president of India, among other distinguished honors. She has also received honorary accolades from Purdue University and Swansea University in the United Kingdom.
Dr. Khator's husband, Dr. Suresh Khator, is associate dean of the University of Houston's Cullen College of Engineering. The Khators delight in their two daughters and two grandchildren. In her free time, Dr. Khator enjoys writing poetry and fiction that she hopes empowers women in India where her work is published.
Page last updated 9:28 AM, May 19, 2022