Oveta Culp Hobby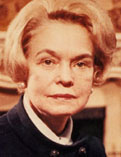 1984 Inductee
Business and Finance
(1905-1995)
Oveta Culp Hobby of Houston, a former publisher and board chair of the Houston Post, served as U.S. Secretary of Health, Education and Welfare (1953–55), making her the second woman in American history to serve as a member of a president's cabinet.
Educated at Mary Hardin-Baylor College, she served as parliamentarian of the Texas House of Representatives (1926–31), chief of the Women's Interest Section in the War Department, and Director of the Women's Army Auxiliary Corps (WAAC) and the Women's Army Corps (WAC).
For 40 years, she held leadership positions in many charitable organizations including the Board of Governors of the American Red Cross and the American Cancer Society.
Mrs. Hobby, married to the late Texas Governor William P. Hobby, served on the Commission for the White House Conference on Education (1954–55) and the HEW Vietnam Health Education Task Force (1966). From 1967 to 1975, she served as a trustee of Rice University in Houston.
She received numerous awards including the Headliners Club's Publisher of the Year Award (1960) and the Living History Award given by the Research Institute of America (1960).
Page last updated 4:37 PM, March 5, 2020