Ninfa Laurenzo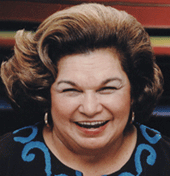 1988 Inductee
Business
(1924-2001)
Ninfa Laurenzo, a native of Harlingen, spearheaded Ninfa's Restaurants from one small restaurant to a multi-million dollar corporation in 10 short years. She was a sought-after keynote speaker and a committed volunteer for a variety of civic and charitable organizations.
In 1948, Ninfa and her husband, Tommy Laurenzo, started Rio Grande Food Products Company, making and wholesaling pizza dough and tortillas in Houston's eastside barrio. In 1969, four years after her husband's death, Ninfa struggled to keep the business alive on her own. Undeterred by her lack of restaurant experience, Ninfa carved out a small section of the factory and converted it into a 10-table Mexican restaurant. Ninfa's Restaurant was unique for that period because it served gourmet caliber Mexican food prepared from scratch. Mrs. Laurenzo opened her second restaurant in 1976.
Mrs. Laurenzo launched Bambolino's Italian Drive-Thru in April 1987, featuring pizza by the slice. Next came another new endeavor, Joey Jack's Seafood, a fast service, high quality seafood house.
Mrs. Laurenzo was honored as "Business Woman of the Year" by the National Hispanic Chamber of Commerce and was named "Woman Restaurateur of the Year" by the Texas Restaurant Association in 1979. She sat on many boards and foundations and was honored for her volunteer service.
Active in Republican politics, in August 1988, Mrs. Laurenzo gave a speech seconding George Bush's nomination for president at the Republican National Convention in New Orleans. Her proudest moment, her children said, was in 1984, when then vice president Bush appointed her to be one of five goodwill ambassadors to welcome Pope John Paul II in Puerto Rico.
She received several honors, including the Arthritis Foundation's Humanitarian Award, Roundtable for Women in Foodservice's Pacesetter Award and the U.S. Hispanic Chamber of Commerce's Business Recognition Award. Theater Under The Stars made her life into a musical.
Ninfa Laurenzo died June 17, 2001.
Page last updated 12:24 PM, May 19, 2022