Nandita Berry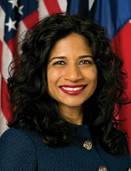 2014 Inductee
Business
A true role model, Nandita Berry was Texas' 109th Secretary of State and the first Indian-American to hold the office. Secretary Berry was appointed by Governor Rick Perry and sworn in on January 7, 2014. In announcing the appointment, Governor Perry called her "one of the most accomplished attorneys in the state."
As secretary of state, Secretary Berry was one of six state officials who comprise the executive department of the state of Texas. Among the office's wide-ranging responsibilities, the secretary of state serves as the chief election officer, the governor's liaison on border and Mexican affairs, and Texas' chief protocol officer for state and international matters. Additionally, the office manages the business and public filings for Texas. Secretary Berry's personal story embodies what is possible through hard work and determination in Texas. Arriving from India at the age of 21 with no more than $200 to her name, she worked diligently to earn her law degree and then forge a successful career from the ground up.
Prior to becoming secretary of state, Secretary Berry specialized in technology transactions as senior counsel in the Houston offices of Locke Lord LLP, a full-service, international law firm. She was formerly in-house counsel for a Fortune 500 company, where she handled corporate and securities matters. A proud naturalized American citizen, Secretary Berry has a long and distinguished record of civic service. She was vice chair of the University of Houston System Board of Regents, the governing body of a system comprising four universities, six regional teaching centers, a television station and two radio stations. She also served on the boards of the Houston Zoo Inc., South Asian Chamber of Commerce, Houston Area Women's Center and the Community Family Center of Houston.
Originally from Hyderabad, India, Secretary Berry is a graduate of Mt. Carmel College in Bangalore, India. She subsequently received a bachelor's degree from the University of Houston and a law degree from the University of Houston Law Center.
Secretary Berry was humbled to follow in the footsteps of Stephen F. Austin, Texas' first secretary of state. "Like him, I came to Texas in search of a better life and the limitless opportunities to be found across our great state," she said when sworn into office. "Every day, I see Austin's pioneering spirit alive in Texas, and this great honor proves once again that Texas is the land of opportunity, both in the private sector and public service."
Page last updated 10:21 AM, February 5, 2020