Nancy Brinker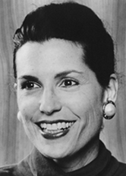 1988 Inductee
Leadership
Nancy Brinker, of Dallas, is an outstanding leader in civic and community activities. She has been honored by the Parkland Hospital Board of managers for the establishment of the Parkland Breast Screening Center. She served on the Associates Committee of the Dallas Museum of Arts and on the Advisory Committee of the Cystic Fibrosis Board. Nancy is the recipient of the Ultra Humanitarian Award and the Women Helping Women Award of the Dallas Women's Center. She was a member of the Crystal Charity Committee, which raised more than $1 million to benefit children.
Brinker was also on the Board of Directors of M.D. Anderson Hospital, Houston, Texas and a member of the Baylor University Medical Center Foundation. She was a presidential appointee to the National Cancer Advisory Board. There are only 18 members on this board, and Brinker was one of only six non-medical members to receive this prestigious honor.
Brinker is the founder of Dallas-based Susan G. Koman. Koman was created in 1982 after Brinker's sister, Susan, died from breast cancer. Koman has grown into a thriving organization that works toward the common goal of raising funds for the advancement of breast cancer research.
One of Koman's major objectives is to educate women about breast cancer so higher recovery rates may be achieved through early detection.
Since 1982, the Foundation has given millions of dollars to M.D. Anderson Hospital in Houston, UT Southwestern Medical School, the Peralta Institute, the Corporate Angel Network, the Dallas Public Library, Baylor University Medical Center, Presbyterian Hospital, Parkland Hospital, Memorial Hospital, the Betty Ford Center, UT Health Science Center in San Antonio and Johns Hopkins.
Susan G. Koman was instrumental in getting legislation signed into Texas law, mandating insurance companies to provide coverage for screening mammograms for women over 35. This landmark legislation was the first of its kind in the country.
Page last updated 10:25 AM, February 5, 2020