May Owen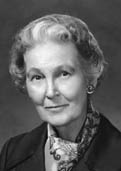 1986 Inductee
Health Care
(1892-1988)
Dr. May Owen, a Fort Worth pathologist, discovered in 1936 that talcum powder used in surgical gloves caused scar tissue and infection. Her discovery revolutionized surgical practices. Texas Christian University awarded an honorary doctor of science degree to her in 1936 for this pioneering research.

She was recognized for her investigations of diabetes in feedlot sheep and chloronaphthalene poisoning in cattle, and she was awarded the Gold-Headed Cane Award from the Tarrant County Medical Society.

From 1960 to 1961 Ms. Owen served as the first woman president of the Texas Medical Association. In 1960 she established the Physician's Benevolent Fund to help needy doctors and their families.

Her medical studies were completed at the Louisville Medical School in 1921 followed by post-graduate training at the Mayo Clinic. After more than 50 years of professional service Dr. Owen still followed her rigorous daily schedule of visiting laboratories, attending staff meetings and serving as a consulting pathologist to seven hospitals within a 100-mile radius of Fort Worth.

Dr. May Owen died April 12, 1988 at the age of 96.
Page last updated 11:41 AM, March 4, 2020