Mary Nan West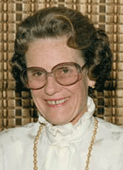 1987 Inductee
Agriculture and Ranching
(1925-2001)
Mary Nan West, of Batesville, was a south Texas rancher. Ms. West spent most of her life running the 36,000 acre Rafter S Ranch near Batesville in Zavala County and 10,000 additional acres in Val Verde County, doing much of the work herself. She operated the Rafter S Ranch since the age of eighteen when she took the reins from her grandfather, George Washington West, a pioneer Texas rancher.
For over 20 years, Ms. West worked as a volunteer with the San Antonio Livestock Association. In 1984 she became both president and chairman of the association, the first woman to hold these positions.
Other "firsts" for Ms. West include first woman president of the Alamo Quarter Horse Association, first woman chair of the Board of the San Antonio Livestock Show and Rodeo, the first woman to serve on the Texas Animal Health Commission and the first woman to serve as Chairman of the Board of Regents of Texas A&M University.
She served on the boards of the San Antonio Zoo and Incarnate Word College. She was inducted into the National Cowgirl Hall of Fame, Texas Heritage Hall of Fame and the San Antonio Women's Hall of Fame.
Mary Nan West died January 1, 2001.
Page last updated 4:02 PM, September 7, 2022