Mary Meyers Rosenfield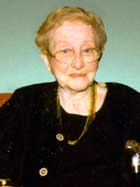 2004 Inductee
Health/Health Research
(1910-2006)
Mary Meyers Rosenfield was born in 1910 in Lubcha, Russia. Mary and her family immigrated to the United States in 1911 and settled in El Campo, Texas, the following year.

Mrs. Rosenfield's first volunteer service was at the tender age of six when she knitted blankets for the troops fighting during World War I. Her volunteerism continued into her teens when she aided in the establishment of the first library in El Campo. As a young girl, she joined Hadassah, a volunteer women's charitable organization.

Mrs. Rosenfield graduated from El Campo High School in 1929 and furthered her education at the College of Industrial Arts (now known as Texas Woman's University) in Denton, Texas. While in school, she studied Art and Design.

After giving birth to her daughter, Rita Sue, who was mentally challenged, Mrs. Rosenfield devoted her life to the care and education of Texas children and adults with mental retardation. Rita Sue was the catalyst for a new approach to education in El Campo. In 1949, Mrs. Rosenfield organized the first home school for children with mental retardation. In El Campo she sponsored doctors from Methodist Hospital of Houston, offering free diagnosis for children with mental retardation.

Mrs. Rosenfield became the founding president of the Association of Retarded Citizens in El Campo and served on their state board. She lobbied the local publish school system to hire the first special education teacher. In 1952, Mrs. Rosenfield established the Opportunity Center, a workshop for adults with mental retardation, offering a means for both employment and independence. She also started a summer program for children with mental retardation that included swimming, arts and crafts.

In the 1950s, Mrs. Rosenfield became concerned that the needs of adults with mental retardation were not being met. She worked to help establish the Richmond State School, which opened in 1968. The school offers residents a full range of therapies, medical care, workshops and choices that foster independence in a safe community with a home life environment.

Mrs. Rosenfield was an active citizen of El Campo and, in January of 2004, was named Citizen of the Year by the El Campo Chamber of Commerce.
Page last updated 4:40 PM, October 9, 2019