Mary Lavinia Griffith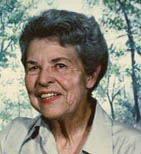 1986 Inductee
Ranching and Agriculture
(1906-1993)
Mary Lavinia Griffith of Paige owned and operated Griffith League Ranch, which supports the western-most stand of loblolly pine in the nation. The ranch consists of an original Spanish land grant in her family since 1832. She developed her land into a productive working ranch, thus succeeding in a field overwhelmingly dominated by men.
She was among the first Texas ranchers to crossbreed cattle. In honor of the signers of the Texas Declaration of Independence she donated a part of her land to the state for use as an ecological park.
In addition to her agricultural interests, Ms. Griffith served as vice president and assistant legislative chair of the League of Women Voters (1949-1952). She was instrumental in securing passage of state legislation guaranteeing the secret ballot and establishing the juvenile court system.
Page last updated 3:11 PM, May 18, 2022