Mary Kay Ash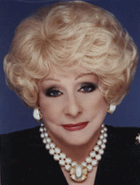 1986 Inductee
Business
(1918-2001)
Born in the Texas town of Hot Wells, Mary Kay Ash of Dallas founded Mary Kay Cosmetics, Inc., and served as chairman of the board. With only her life savings of $5,000 and the help of her 20-year-old son, Richard Rogers, Mary Kay was able to launch Mary Kay Cosmetics, Inc. on September 13, 1963. One of Mary Kay's strongest motivations for founding Mary Kay Cosmetics was to offer women opportunities in the business world. Her company provides just that and is the largest direct seller of skin care products in the United States. Fortune magazine recognized the company in "100 Best Companies to Work for in America," as well as naming her company among the 10 best companies for women.
A dynamic speaker, motivator and entrepreneur, Mary Kay was recognized for her achievements as one of "America's Twenty-five Most Influential Women" in the 1985 World Almanac and Book of Facts. She was also elected into the National Business Hall of Fame in 1996 by Fortune magazine. In 1999, Mary Kay was honored the "Most Outstanding Woman in Business in the Twentieth Century" by Lifetime Television.
In 1980, Mary Kay's husband, Mel, died of cancer. Having witnessed his suffering, she became committed to the fight to find a cure. She established the Mary Kay Ash Charitable Foundation that provides funding for research of leading cancers affecting women. She was active in raising funds for cancer research programs through Susan G. Komen and the American Cancer Society. A cancer research wing at St. Paul Medical Center previously dedicated to Mary Kay Ash was expanded in 1995, and, in 1998, the hospital dedicated the Mary Kay Ash Cancer Research Institute.
Mary Kay Ash died at the age of 83 on November 22, 2001.
Page last updated 10:12 AM, February 5, 2020