Margaret Pease Harper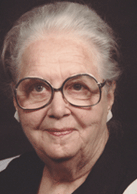 1988 Inductee
Arts
(1911-1991)
Margaret Harper of Canyon captured the true spirit of a Texas pioneer. In establishing the Texas Panhandle Heritage Foundation, she created the vehicle to sponsor Pulitzer Prize winning author Paul Green's musical tribute to Texas, appropriately entitled "Texas," which opened in 1966.
Ms. Harper began work in 1961 to ensure the success of "Texas" through her tireless hours as a publicist, fundraiser and sometimes head cheerleader for the production. The story of "Texas" has been presented to millions, including guests from over 80 foreign countries. "Texas" is the nation's largest outdoor musical drama. People from all over the world enjoy its color, music and panoramic beauty each year.
When Ms. Harper first conceived "Texas," tourism was becoming an important source of income for the state, and she made sure her production would be an asset. Based on figures compiled by the Institute of Outdoor Drama, 19,206 "Texas" visitors left over $10 million in Texas in 1988! The Bureau of Business Research at the University of Texas at Austin estimates this money is turned over four to 11 times, so even with a conservative estimate of seven times, "Texas" was responsible for over $75 million spent in Texas in 1988 alone.
Because of Ms. Harper's efforts, the young men and women starring in "Texas" have the opportunity to learn more about Texas history, and earn both money and college credits as they gain first-hand experience for a future career in music, dance, drama or the technical side of theater. Auditions in Lubbock, Canyon, Austin and Dallas provide about 140 people each year with this unforgettable experience.
Ms. Harper used the momentum from "Texas" to propel her into other areas where her energy, enthusiasm and wisdom are needed. She was co-founder of the Lone Star Ballet, a nationally recognized company that has nurtured some of the brightest stars in the ballet world.
As a writer, Ms. Harper made a national impact with her musical dictionary for children and The "Texas" Experience, which is invaluable for new profit ventures. She was named Amarillo's Citizen of the Year and served as president of the American Association of University Women.
Ms. Harper was inducted into the National Cowboy Hall of Fame and the National Cowgirl Hall of Fame. She was Citizen of the Year in both Canyon and Amarillo, and she received the Distinguished Service Award from the Texas Division of the American Association of University Women.
Margaret Pease Harper died November 16, 1991.
Page last updated 3:57 PM, March 5, 2020