Major General Mary Saunders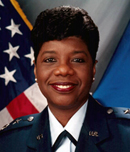 2012 Inductee
Military Service
Major General (Ret.) Mary Saunders served her country for more than 34 years in the United States Air Force, including serving at the Pentagon as the highest-ranking African-American woman in the Air Force. Saunders was born in Nacogdoches, grew up in Houston, and earned her bachelor's degree in Social Work at Texas Woman's University before entering Officer Training School at Lackland Air Force Base. Commissioned a second lieutenant, Saunders began rising through the ranks with command positions in transportation and logistical planning. Saunders later earned her master's degree in guidance and counseling at Rider College in Lawrenceville, New Jersey.
Among her 14 statewide appointments and three overseas assignments, Saunders served as the first female general officer selected as Director of Transportation for the United States Air Force – responsible for a $3.5 billion budget, and training of 32,000 military and civilian personnel. She also served as vice director for the Defense Logistics Agency, which provides a broad spectrum of logistics, acquisition and technical services to the military branches and other federal agencies. During her military career, Saunders received more than a dozen military awards and decorations, and was known and respected for exemplifying the Air Force's core values: integrity first; service before self; and excellence in everything.
In the continuing spirit of excellence and service to country, the following awards are presented annually in General Saunders' name. The Air Force Logistics Officer's Association presents three Distinguished Service Chapter awards in her name and the Excellence in Leadership Award scholarship is presented to a federal civil service employee.
Following her military retirement, Saunders was selected as the executive director of the Texas Woman's University Leadership Institute to prepare young men and women for positions of leadership. Saunders continues to serve as an exemplary leader, accomplished professional, role model and mentor for the next generation of Texas leaders.
Saunders serves as a trustee for the Dallas Women's Foundation and a member of the Advisory Council for Denton County Friends of the Family. Among her civilian honors, Saunders has been named a Distinguished Alumni of Texas Woman's University and a TWU Woman of Distinction. In 2009, Saunders was selected as one of 30 women nationwide to be a member of Leadership America and received the Governor's Yellow Rose of Texas Award in 2010 for her service to her community.
Page last updated 12:58 PM, June 17, 2022