Mae Jemison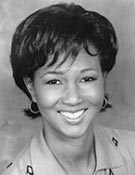 2002 Inductee
Education
Dr. Mae Jemison, president of BioSentient Corporation and the Jemison Group, is a chemical engineer, scientist, physician, teacher and astronaut, but she is best known for her time spent at NASA. On September 12, 1992, she was the first American Science Mission Specialist on the STS-47 Space Lab J flight and the first African American woman to go into space.
Her commitment to women stretches beyond the State of Texas. She was an area Peace Corps medical officer for Sierra Leone and Liberia and spent a medical clerkship in Thailand at a Cambodian refugee camp. In the United States Dr. Jemison conducted research in the Bone Cell Research experiment.
For the last 20 years Dr. Jemison committed herself to ensuring diversity in the fields of science and technology by encouraging women and minorities to pursue careers in science. She worked diligently to advocate the public school system and contributed to children's education with her television series, "World of Wonders."
In 1994 Dr. Jemison created The Earth We Share, an annual international science camp for 12- to 16-year olds from around the world, where students learn to solve current global dilemmas. The program works to build critical thinking and problem solving through an experimental curriculum.
Dr. Jemison is a professor-at-large at Cornell University and a former professor of Environmental Studies at Dartmouth College where she directed the Jemison Institute for Advancing Technology in Developing Countries.
Page last updated 4:30 PM, May 18, 2022