Lucy G. Acosta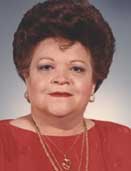 1987 Inductee
Civic leadership
(1926-2008)
Lucy Acosta's tireless civic involvement dedicated to the advancement of women, Hispanics, and youth earned her recognition as one of the state's most active and effective leaders in the area of civil and human rights. As an El Paso resident, she co-founded, developed and served as executive director of Project Amistad, a flagship social service program vital to the community, its elderly and disabled. She was also instrumental in the development of a scholarship program that provided educational opportunities for disadvantaged youth.
Mrs. Acosta served as a local, state and national leader in the League of United Latin American Citizens (LULAC). She was the first woman and layperson in the history of the Texas Bar Association to be appointed to the 17th District Bar Association of Law Examiners; the first woman to be elected to the El Paso Community College Board of Trustees; and the first woman in the history of El Paso to be appointed civil service commissioner. In 1982, she became the city's first recipient of the United Way's annual volunteer service award.
For 29 years, Mrs. Acosta served every El Paso mayor in a position of civil leadership.
Page last updated 12:23 PM, June 13, 2023