Louise Ballerstedt Raggio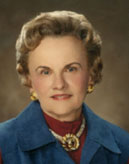 1985 Inductee
Legal
(1919-2011)
Louise Ballerstedt Raggio, a Dallas attorney who spearheaded the drafting and passage of the Texas Marital Property Act of 1967, was the first woman ever elected to be a director of the State Bar of Texas and a trustee of the Texas Bar Foundation. She organized all phases of the drafting, financing, and enactment of the Texas Family Code Project (1966-1975) and championed the Family District Court Bill in 1967.

Ms. Raggio served as chairman of the Family Law Section of both the Texas Bar and the American Bar Associations. She also participated on the State Bar's special committee studying laws discriminating against women.

Louise Raggio received her undergraduate degree from the University of Texas and the Rockefeller Fellowship for graduate work in public administration in Washington, D.C. She completed her law degree at Southern Methodist University.

She received SMU's Outstanding Alumni Award in 1972, an American Bar Association award in 1980 for Family Law Service and the Business and Professional Women of Texas' Woman of the Year Award in 1985.
Page last updated 12:33 PM, June 17, 2022