Lillie M. Biggins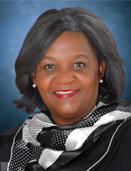 2014 Inductee
Health
Lillie M. Biggins is both president of Texas Health Harris Methodist Hospital Fort Worth (Texas Health Fort Worth), a 726-bed faith-based nonprofit medical center, and chair of the Board of Directors of the Dallas/Fort Worth International Airport, a critical transportation hub covering 26.9 square miles, with 60,000 on-airport employees and over 165,000 passengers daily.
Biggins is a graduate of what was then The John Peter Smith Hospital School of Nursing in Fort Worth. She received a Bachelor of Science from the University of Texas at Arlington and a Master of Science from Texas Woman's University in Denton. For six years, she was an assistant clinical professor in hospital administration at the University of Texas Southwestern Medical School in Dallas and is currently adjunct faculty at the University of Texas at Arlington.
Biggins joined Texas Health Fort Worth in 1997 as vice president of operations, overseeing major departments such as Emergency Services, Trauma Services and Restorative Services. As president, she is responsible for enhancing the performance of Texas Health Fort Worth through cost effectiveness, clinical outcomes and patient satisfaction. She was appointed to the DFW International Airport Board in May 2005, was named vice chair in March 2006 and chair in February 2008. She is currently serving her second term as chair and works tirelessly to promote the Dallas/Fort Worth region with the airport authority.
With a passion for the underserved, Biggins is the driving force behind the $57.7 million Marion Emergency Care Center at Texas Health Fort Worth. The 75,000 square-foot center provides the healthcare safety net for the region.
Biggins is famous for facing difficult situations with a steadfast resolve. A compassionate senior executive, she tells her hospital employees to "do the right thing, we won't regret it." Her interactions in meetings and individual conversations resonate with wisdom. She is a committed mentor to young professionals.
Before working at Texas Health Fort Worth, Biggins brought her highly effective administrative skills to her roles as chief nursing officer and then as vice president of East Campus Operations at Plaza Medical Center of Fort Worth. She has an additional 21 years of health care experience shared between John Peter Smith Hospital and Dallas' Parkland Memorial Hospital.
Biggins' life has been centered on faith, family and community service. As a result, she has received many awards and honors, including the President's Volunteer Call to Service Award, the nation's highest honor for volunteer service.
Page last updated 10:22 AM, February 5, 2020